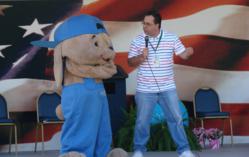 Los Angeles, CA (PRWEB) May 17, 2012
The President's Advisory Council on Financial Capability has developed and is promoting a tool called "Money As You Grow – 20 Things Kids Need to Know to Live Financially Smart Lives" linked to Executive Order 13530. The Council has invited the public to ask questions, comment and get involved.
They are also encouraging users to embrace it and share it with others, including Government agencies, moms and teachers.
"Sammy Rabbit and the It's a Habit team believe it is very simple," said Sam X Renick, a nationally recognized expert in the field of financial education for youth and creator of children character Sammy Rabbit. "Outstanding development, smart consumption, risk avoidance and excellence in entrepreneurship demand lots of questions, time, and testing from a variety of sources under a variety of conditions.
On the other hand, language, particularly the English language, is extraordinarily complex and nuanced. In the United States, this complexity is further compounded by the fact it is estimated Americans speak well over 300 languages.
If one analyzes the 3 to 5 age category, one may wonder where are the pictures, particularly a 3 year old?
Furthermore, start with item 1, which many may presume is the most important item in the 3 to 5 age category and on the entire tool. However, it is not clear if that is the developer's intent or not.
Item 1 states "YOU NEED MONEY to buy things." This may have users asking and discussing would it not be wiser in this economy or at any time to say: "You need MONEY to SAVE for the things you WANT."
This is an extremely sophisticated tool that appears simple until you start asking questions.
We imagine the developers themselves do not fully understand it.
The good news is – it does not appear the government is funding this tool since the website's URL ends in ".ORG" and not ".GOV." The bad news is – it is not clear where the funding for this tool is coming from. This may also explain why, if they appear at all on your computer screen, disclosure and information notices are applied in some places and not others.
Until these and numerous other issues are clarified, Sammy Rabbit and the It's a Habit team suggest potential users only embrace the Council's invitation to ask questions regarding the tool.
###
About the It's a Habit Company (IAHC)
IAHC is an award winning micro enterprise, comprised of American entrepreneurs dedicated to teaching and promoting children and families smart money, reading, and writing habits and other important life skills through the use of live appearances, sayings, stories and songs form one of the world's largest and growing audio collections on financial education. You can learn more about IAHC by visiting our Facebook page: http://www.facebook.com/itsahabit or our website http://www.itsahabit.com
------------------------------
---------------------------------
Contact Person: Sam X Renick
Company Name: It's a Habit Company (IAHC)
Telephone Number: 323.223.1522
Email Address: savingsammy(at)gmail.com