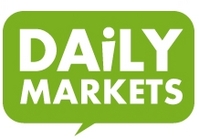 At DailyMarkets, our slogan is 'Your views make news' and we aim to provide a prominent platform for people involved in the financial markets to share with the community what's really going on in the markets. In this case, DailyMarkets has helped bring the grievances of many of those affected by the Wamu collapse to the spotlight
New York (PRWEB) October 20, 2008
DailyMarkets.com, the popular blog for traders and investors seeking financial market news and opinions from the ground, has lately been a go-to site for bondholders of Washington Mutual, US's biggest thrift, to seek out other affected bondholders.
The collapse of Washington Mutual as a result of the ongoing housing and credit crisis left its bondholders on Main Street looking for answers and support on DailyMarkets. Fearing that their bond investments would be wiped out, hundreds of affected bondholders have flocked to the community site, with many sharing their pain and anger, and rallying for a coordinated resolution to the disastrous fiasco which resulted in the possibility of a substantial wipeout of their retirement funds.
"At DailyMarkets, our slogan is 'Your views make news' and we aim to provide a prominent platform for people involved in the financial markets to share with the community what's really going on in the markets. In this case, DailyMarkets has helped bring the grievances of many of those affected by the Wamu collapse to the spotlight," said Grace Cheng, founder of http://www.DailyMarkets.com.
Most of the bond holders are looking to join a class action lawsuit to recover as much as they can, but so far, there isn't a lawyer taking up their case. Many are ordinary people who have worked hard all their lives and now see their retirement plans in jeopardy. "I had been led to believe AAA rated bonds were a safe investment," said Pat Rowell on DailyMarkets. Several said they have over $100,000 invested in Wamu bonds, and many have five figure sums invested.
"The goal of DailyMarkets is to provide a loudspeaker for Main Street investors and traders involved in the financial markets. The mainstream media tends to neglect their voices and mainly concentrate on what Wall Streeters have to say. We are here to fill that gap," said Grace. Today, hundreds of thousands of visitors read DailyMarkets each month to see what top market bloggers and expert commentators have to say on stocks, forex, ETFs, commodities and the economy.
About DailyMarkets
DailyMarkets.com (formerly GraceCheng.com) is a leading New York-based financial blog that covers news, opinions and analysis of stocks, ETFs, forex, economy, commodities and options by the best market bloggers, traders, investors and economists. The mission of DailyMarkets is to democratize market information. By increasing transparency and encouraging frank discussions, new perspectives are formed from the ground up. Only opinion pieces that meet quality standards are accepted, and they are edited for clarity and consistency. DailyMarkets also offers exclusive content such as a regular forex market roundup and weekly market videos. It is widely read by banking and hedge fund executives, individual investors, traders, and financial journalists.
###