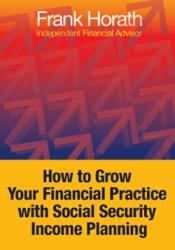 Financial Advisors can double or even triple their new client pipeline within 4 to 6 months by adding best-in-class Social Security income planning solutions to their practices
Aptos, California (PRWEB) April 19, 2012
ClientFirst Financial announces the release of enhanced marketing and sales tools designed to help financial advisors expand their business in the Social Security income planning niche.
"Financial Advisors can double or even triple their new client pipeline within four to six months by adding best-in-class Social Security income planning solutions to their practices," said Frank Horath, principal of ClientFirst Financial. "One key to achieving this goal is to adopt a high quality Social Security income financial planning software solution within their practice. Secondly, advisors need to become educated on the most relevant, productive practice management and marketing techniques so they can both retain and attract more quality retirement financial planning clients."
ClientFirst is a distributor of the recently released, enhanced version 2.0 of the Social Security Analyzer software developed by Social Security Solutions. The Analyzer program helps financial advisors assist singles, married couples, widows, and divorcees in making smarter Social Security income election decisions. The results generated by the Analyzer report also provide an entree to build and fortify relationships with accountants, attorneys, human resource contacts and employers.
Additionally, ClientFirst Financial released a new eBook "How to Grow Your Financial Practice with Social Security Income Planning." This eBook is a step-by-step, how-to guide for Financial Advisors who wish to attract more clients to their practice by becoming a Social Security income planning niche specialist. This book identifies the opportunities in the baby-boomer market and the advisory services that clients will need to best leverage their Social Security income election. Topics covered include: an overview of Social Security election options; best practices solutions for advisors offering Social Security guidance; and how to optimally promote new services to continually find better clients.
ClientFirst also has developed the "Social Security canGROW Your Financial Practice Tool Kit," a turnkey Social Security learning, practice management, and marketing set of tools for financial professionals. This kit includes tools necessary to help financial advisors expand their business with Social Security income planning. The kit includes three DVDs, one CD-ROM (with 22 data files), "Social Security Strategies" (the Authoritative Practice Planning Book), the "2012 Mercer Guide to Social Security," and "How to Grow Your Financial Practice with Social Security Income Planning" (eBook).
An expanded webinar series that will show how the Analyzer software can be used will be presented by Horath and William Meyer of Security Solutions in a webinar titled, "Social Security Income Planning - How to Use Best-in-class Software to get more Accountant and Client Referrals" on Tuesday, May 1, 2012 at 11 a.m. PST. Register for webinar.
Horath and Martha Shedden of ClientFirst Financial will present an additional webinar titled "Guiding Women to Make a Smart Social Security Income Election Choice: Relevant Issues and Smart Planning Techniques" on Tuesday, May 15, 2012 at 11 a.m. PST. Register for webinar.
ClientFirst Financial helps financial professionals embrace the entitlement financial planning programs (i.e. Social Security, Medicare, and aspects of long-term care) as essential, gateway services.