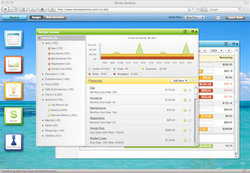 There are a lot of financial planning programs out there
Provo, Utah (PRWEB) July 13, 2009
This week, MoneyDesktop.com launched a revolutionary financial planning software program designed to help online users manage their budgets and achieve financial wellness.
Most financial management programs focus only on the past, allowing users to see the mistakes that were made but failing to provide insight on the current situation. MoneyDesktop helps users identify their immediate financial needs and prepare for the future.
In addition to the budgeting features traditionally included in financial planning software, MoneyDesktop offers new ways for the everyday user to take advantage of saving strategies. Their collection of expert tools helps users manage their financial future by running interest-comparison scenarios, evaluating the impact of potential purchases, or applying one of many debt management techniques.
MoneyDesktop is also the only personal financial management program to offer:

Debt prioritization. Users save on interest and get out of debt sooner by sorting their bills by greatest priority.
Mortgage acceleration. The included mortgage acceleration suite, sold elsewhere for $3,500 or more, helps homeowners pay off their home loans in half or even a third of the time.
Money-saving incentives. Discounts on utilities and shopping deals let users save even more.
"There are a lot of financial planning programs out there," said MoneyDesktop President Seth Risenmay. "But, we wanted to create something different. MoneyDesktop not only helps clients see where their money is going, it helps them make smart financial decisions."
The innovative debt prioritization feature helps users decide which credit cards, loans, or consumer debts to focus on. Instead of treating all debts as equal, MoneyDesktop highlights the bills that are quickly multiplying due to the accrual of interest. By paying off the highest interest debt first, users are often able to save thousands and eliminate all debt sooner than anticipated.
As the only financial planning website to make mortgage acceleration features available at no additional cost, MoneyDesktop is expected to be particularly popular with homeowners. Users can access a complete mortgage acceleration program, designed to help them pay off their home loans early and leverage their interest payments.
President Seth Risenmay explained: "At a time when millions of homeowners are struggling, mortgage acceleration companies continue to charge thousands of dollars for their product. That's why the MoneyDesktop team worked hard to make a $3,500 mortgage payoff program accessible to our users for absolutely free. We wanted to revolutionize the industry, to shake things up. Using our included tools, anyone can learn how to payoff their home early."
When it comes time to spend, MoneyDesktop helps ensure that clients get the most for their money. They offer opt-in deals on utilities, interest-saving offers from banks, and discounts from over 300 popular internet retailers.
New MoneyDesktop clients are already beginning to see how this financial planning software program is different.
"The best part of this system is knowing that it is providing peace of mind for my wife and my family," says David E., an early user from Tampa Bay, Florida. "I know that every dollar I earn is working for me."
About MoneyDesktop
MoneyDesktop.com, a startup from Provo, Utah, offers a unique financial planning software program that combines traditional financial management with advanced money-saving strategies.
For more information about the features and services provided, visit MoneyDesktop.com.
###