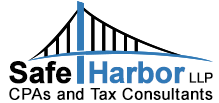 We monitor the AICPA closely for our business clients.
San Francisco, CA (PRWEB) May 06, 2013
Safe Harbor LLP and G&J Seiberlich & Co LLP, two leaders in small business financial reporting services for San Francisco Bay Area businesses, are proud to announce the latest informative article post by Jenea Smith, CPA, on proposed AICP task force changes to financial reporting requirements. While the proposed changes affect all businesses everywhere, the two CPA firms are located in the San Francisco Bay Area and specialize in helping San Francisco Bay Area businesses with their financial accounting needs.
"We monitor the AICPA closely for our business clients," explained Chun Wong, Managing Partner at Safe Harbor LLP. "Jenea Smith's article is part of our joint effort to help not only our clients but other San Francisco Bay Area businesses to keep informed about important changes to financial accounting requirements."
For more information, go to:

AICPA Task Force
The American Institute of Public Accountants (AICPA) set up a task force to address the issue of proper reporting standards for smaller privately-owned businesses. It is called the Financial Reporting Framework for Small- and Medium-Sized Entities Task Force, or FRF for SMEs Task Force (Task Force).
The Task Force is charged with developing a framework that is suited for SMEs and the financial reporting needs of lenders and other financial statement users. The efforts are focused on giving reporting solutions for SME business owners while considering the cost-benefit of the application. It crosses traditional accounting principles with accrual income tax methods of accounting, and is much less restrictive than the accounting principles generally accepted in the United States (GAAP).
IRS Circular 230 Notice
The Internal Revenue Service requires Safe Harbor LLP to inform the reader that any tax advice contained in this correspondence cannot be used for the purpose of avoiding penalties under the Internal Revenue Code or for promoting, marketing or recommending to another party any transaction or matter addressed.
About G & J Seiberlich & Co LLP CPAs - a Professional CPA Firm in Napa, CA
G & J Seiberlich & Co LLP is the oldest full-service CPA firm in the North Bay and the first to specialize in many of the industries that make the region unique. Gordon Seiberlich came to the Napa Valley in 1949, determined to put his national accounting experience to work by establishing a full-service firm in a place that was scarcely more than a spot on a map.
G & J Seiberlich & Co LLP
Tel. 707-224-7948
About Safe Harbor LLP – a Professional CPA Firm in San Francisco
Safe Harbor LLP is a CPA firm that specializes in accounting and tax services for individuals and businesses throughout the San Francisco Bay Area and greater California. Safe Harbor CPAs helps both individuals and businesses with tax preparation, IRS audit defense, and audited financial statements. The firm prides itself on friendly yet professional service and utilizes state-of-the-art Internet technology to provide quality customer service.
Safe Harbor CPA
Tel. 415-742-4249