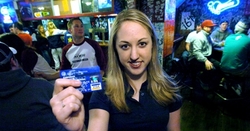 East Stroudsburg, PA (PRWEB) September 23, 2010
On August 22, the last phase of the Credit CARD Act took effect, bringing lots of new regulations that should benefit college students and young adults who are managing credit cards and grappling with budget worksheets. The financial gurus at financiafootprint broke down the new rules to figure out how they will actually affect young adults.
What To Know About The Credit CARD Act:

Over-spending on a credit card is dangerous behavior. But in the past, credit card companies would also charge fees for not using a card. As of August 22, credit card companies can no longer charge consumers for not using a card. However, if a card has not been used for a long time, the credit card company can choose to close the account (at no extra charge), which can negatively affect a consumer's credit score. To learn more about credit cards and your credit score, go to financialfootprint's recent blog post.
Going over your Credit Limit:
In the past, when a consumer accidentally spent over their credit limit, credit card companies would tack on outrageous fees. The new rule says that credit card companies can only charge a fee equivalent to the amount that the consumer went over and cannot exceed 25% of the credit limit. So, if a consumer went over their credit limit spending $3.95 on iTunes, the credit card company could only charge $3.95 in fees. Even better, The Credit CARD Act requires credit card companies to give consumers a choice about spending limits:
Option A—Consumers can choose to have transactions declined if they accidentally try to over-spend.
Option B— Consumers can choose to be permitted to over-spend, knowing that they will have to pay a fee whenever they do so.
What's the best financial solution? Choose Option A. While it's embarrassing to have one's credit card declined at the cash register, a moment of embarrassment is worth saving hard-earned money and one's credit score. Either way, the best practice is to know one's credit card spending limit, and to stay well within that limit each month. financialfootprint can help. We offer one-to-one meetings with a Personal Finance Guide who will help decipher credit card bills, understand credit limits, and manage student finances.
In the past, credit card companies would tack on humongous late fees for late bill payments. Now, if consumers are occasionally forgetful, their late fee will be capped at $25. However, late fees can go higher if consumers are late more than once in a six-month period. This is good news, but even $25 fees can add up (and hurt credit scores). Moral of the story? Bills need to be paid on time!
In the past, credit card companies made loads of money by giving pre-approved credit cards to teenagers and college students who didn't know how to manage their student finances. Young people racked up debt, saddling themselves with poor credit scores that followed them into adulthood. In February 2010, the Credit CARD Act banned credit card companies from issuing cards to people younger than age 21, unless they have adult co-signers or proof that they can repay their debts. Companies are also forbidden from mailing prescreened credit cards to people younger than age 21.
Debt: The Freshman $15,000:
Congress found out that many colleges had lucrative deals with credit card companies, allowing exploitation of their own students. So one of the new credit card laws restricts the "recruitment" activity that credit card companies can do on college campuses, forbidding them from offering free pizza, gifts, and other "goodies" as incentives to sign up for new cards. The law also forces colleges to report their interactions with these companies. College is traditionally the first place where young adults begin to accrue debt through student loans, credit card bills, rent payments, and other expenditures. Yet most colleges struggle with providing personalized educational support in these areas. financialfootprint is here to help by offering relevant personal finance guidance and advice to young adults to help them better manage finances on their own. financialfootprint can provide guidance on a range of personal finance topics including: college financial planning, student loan repayment strategies, managing credit, student finances, creating a budget, etc.
Gift cards to our favorite stores and websites are popular birthday and holiday presents. But in the past, consumers were often cheated by early expiration dates and other hidden fees and "surprises." With the Credit CARD Act, gift cards cannot expire for at least five years. And starting January 31, 2011, gift card issuers must disclose any other rules and fees. And, like the credit cards, gift cards can no longer charge "dormancy fees" (fees for not using them), unless they are not used within a year. After that, they can charge you a fee every month. So make sure you use those gift cards in the first 12 months!
Phase I of the Credit CARD Act began in August 2009 and included some other big changes, like giving consumers at least 45 days advance warning of significant changes to their accounts (such as raising interest rates!). It also required banks and credit unions to give cardholders at least 21 days to pay monthly credit card bills.
The Credit CARD Act contains the toughest credit card regulations in the history of the industry, and these changes should pay off big for young adults and college students. For more information on credit cards, student loans, budgeting, college financial planning, managing debt, student finances, and other financial solutions, check out our website at financialfootprint.com.
financialfootprint offers personal finance solutions and education tailored for young adults via a one-on-one guidance service. Using video chat, online chat, phone, and other media, a professionally trained Personal Finance Guide meets with clients on an individual basis, working around their schedules to offer quality and personalized financial guidance.
###