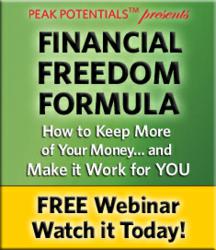 "Financial freedom can be boiled down to five components or activities. If you're missing even one of these components, you won't achieve financial freedom – it's that simple." -T. Harv Eker
San Diego, CA (PRWEB) August 29, 2012
Most people would agree that they want to achieve "financial freedom" – being able to pay for their dream lifestyle while making work optional. In fact, financial freedom is possible for anyone – if they know the five things that are required to reach financial freedom. Unfortunately, most people only do one or two of the required activities, says one self-made multi-millionaire.
"Financial freedom can be boiled down to five components or activities. If you're missing even one of these components, you won't achieve financial freedom – it's that simple. You'll have to work longer than you want or need to, or you'll have to scale back your dreams or you're your lifestyle," explains T. Harv Eker, founder of Peak Potentials, one of North America's largest personal development training companies, and author of the New York Times best-seller, Secrets of the Millionaire Mind. "But if you do all five things successfully, financial freedom is guaranteed."
To educate the public about the five necessary components for reaching financial freedom, Peak Potentials offered a brand new free training webinar on August 23. The webinar replay is available for free until midnight Pacific Time on Monday, September 3, 2012, at http://www.wealth180.com/replay.
During "Financial Freedom Formula: How to Keep More of Your Money … and Make It Work for YOU," participants will learn:

5 critical elements in the Financial Freedom Formula … and why missing even 1 of them practically guarantees a person can never be financially free
The 6-part money management system that will help anyone eliminate debt and create financial freedom
The most commonly overlooked reason that someone hasn't achieved financial freedom … and the surprisingly easy way to fix it (hint: this one has nothing to do with money management)
The 2 primary sources of income everyone should develop – without working – and which is best
Tricks for properly calculating what it will really take to support a desired lifestyle
Why spending money is essential to financial freedom … and the must-follow rule about how and when it should be spent
The deadly mistake that many business owners make with their income … and the critical change that can triple the speed with which financial freedom is achieved
2 proven approaches for couples to manage their money … and tips to ensure that neither partner feels resentful
The right way to divide investment money to properly manage risk
What everyone must prove they can do before they'll be able to attract more money
Why putting every dime toward paying off debt is a huge mistake (in fact, it dramatically increases the chances of ending up back in debt)
"Financial Freedom Formula" is a free training webinar. To access the replay, visit http://www.wealth180.com/replay.