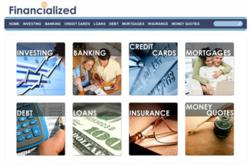 Financial literacy helps consumers to manage their credit responsibly, which underscores the importance of saving and accumulating capital
(PRWEB) February 28, 2013
Financialized.com announced today the launch of the new website (http://www.financialized.com), intended for people who are interested in learning more about finance.
The website was created by the web design and development team at Financialized.com, and it took 4 months to develop the design and architecture and ensure that they are of high quality. The goal of the website is to present information in an easily digestible form so that people without expert knowledge can understand it. The team at Financialized.com researched the most popular questions asked by people and tried to answer them as thoroughly as possible.
"Financial literacy helps consumers to manage their credit responsibly, which underscores the importance of saving and accumulating capital," said John Williams, marketing consultant at Financialized.com.
Financial literacy is a skill for life, but many people are unable to create a simple budget. Ineffective money management can affect the ability of individuals to save for retirement, buy a house, and seek university education. Literacy deficiency is one of the reasons why people make devastating financial mistakes. They know little about basic economic and financial concepts but believe that they know a lot. Many people don't make projections, are not foreword-looking, and are thus vulnerable to financial crises. People who are less likely to save also take out payday loans and pay the minimum balance only. Those who have good budget and money management skills are less likely to use costly forms of borrowing. Literacy is the key to responsible financial behavior and wealth accumulation. Wise decision making has a positive impact on the economy. Knowledge-able people contribute to shaping an efficient and competitive economy. Informed consumers use financial products that help them meet their long- and short-term goals. Banks and other establishments compete to develop products that meet their needs and serve consumers more efficiently.
The goal of Financialized.com is to help people from all walks of life to learn more about banking, investing, loans, and finance in general. Given the need for non-profit sites dedicated to financial education, the website helps people to understand basic economic concepts, which enable them to control their financial destiny.
About Financialized.com: Financialized.com is a website, focused on offering free education on important financial topics.