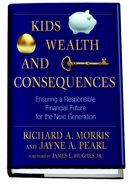 Springfield, MA (Vocus/PRWEB) March 30, 2011
In anticipation of April's National Financial Literacy Month, the financial parenting website http://www.kidswealthandconsequences.com has added several new interactive tools and cool games for kids to their website to help parents talk with their children about how to think about and use money responsibly.
The kids' games, calculators, and spreadsheets, created by Jayne Pearl and Richard Morris, co-authors of Kids, Wealth, and Consequences: Ensuring a Responsible Financial Future for the Next Generation (Bloomberg, a Wiley imprint, 2010), are free.
"Many parents feel uncomfortable talking about money, let alone teaching children about money management," say Pearl and Morris. "They either feel the subject is taboo, beyond their own knowledge, or they may not set the best example for their children. And yet they also worry that they may be raising spoiled kids, and want to raise financially responsible children. We want to provide tools that will enable them to get past these hurdles so they can talk and work with their children in a constructive and focused way."
The authors based each of their tools on one of their five financial values that they recommend parents should impart to their children:

UNDERSTAND THAT MONEY IS A FINITE RESOURCE:
$mart $kills Allowance Calculator shows how much a child's allowance (or the price of anything) today was worth when the parents were their child's age, or can demonstrate how much allowance the parents received at their age would be worth today. "This is a fun tool that can spark interesting and informative conversations between parents and children about inflation, as well as how parents learned about the financial skills of life," say the authors.
LEARN HOW TO MAKE TRADE-OFFS:
$mart $kills Allowance and Budget Controls let parents customize a budget for kids and young adults to account for their unique circumstances. There three different budgeting spreadsheets: one for college-bound students, one for students getting their first apartment while at school, and another for once they are out in the working world. Parents can use the worksheets for budgeting and to figure out how much allowance they might pay to cover all or some of their kid's expected expenses while they are in school or to help them get on their feet after they graduate. "Even wealthy parents should consider basing allowance on estimated expenses," recommend Pearl and Morris. "Giving them too much allowance may have unintended consequences, such as teaching kids to live on more money than they are likely to make when they graduate."
TOLERATE DELAYED GRATIFICATION:
Chasing Returns: The Asset Allocation Game, for children ages 13 to 18, teaches the benefits of having a long-term view on investing, without subjecting them to a lot of charts and graphs. The game can be administered by any adult knowledgeable about asset allocation in one afternoon. "Many financial games for kids actually leave them with the impression that to be successful at investing, one must try to time stock-market turns or try other risky techniques. This game shows how basic diversification and patience will yield the best long-term gains," say the authors.
LEARN TO DIFFERENTIATE BETWEEN WANTS AND NEEDS:
Intergenerational Equity Calculator helps wealthy parents determine a sustainable spend rate as a percentage of their investment portfolio. As well, parents with more modest means can see if they will outlive their savings. "This calculator lets parents figure out how they might be able to pass down their wealth and provide intergenerational equity—which we define as the ability to pass enough capital to your children for them to enjoy the same standard of living as your family currently enjoys," explain Pearl and Morris. "One of the effects of the Great Recession is that investors, many of whom have yet to completely recover their losses, are rethinking their assumptions about what portion of their portfolios they will be able to withdraw to support their families. Many of them also worry about whether they will be able to leave behind assets to charity or their children."
ACQUIRE A HEALTHY SKEPTICISM (ABOUT THE MEDIA)
TV Challenge: Pearl and Morris suggest that parents sit with their children during television commercials to point out and ask why the print is so small or the announcer is speaking so fast. "Parents can also ask if products they and their children have used are really as terrific as the commercials make them seem, and how they feel when they've bought something that didn't measure up. "Kids are besieged with ads and come-ons almost every waking moment. They need to learn not to believe everything they see and hear," say Pearl and Morris. "This is as true for kids of modest means as for wealthy kids."
Kids, Wealth, and Consequences helps affluent parents and their advisors understand how affluence affects children's future success, happiness and motivation. The book explores everything from how and when parents should talk to their children about the often-uncomfortable topic of money to what affluent families can learn from the economic meltdown about spending, saving and investing to help them better prepare themselves and their children to survive in any economic environment.
Jayne Pearl is a journalist and entertaining speaker, focusing on family business and financial parenting. She is author of Kids and Money: Giving Them the Savvy to Succeed Financially (Bloomberg Press) and has co-authored or ghost-written ten other books. Jayne began her career at Forbes and was former senior editor of Family Business magazine, to which she has contributed for 20 years.
Richard Morris is an adjunct professor at the Lake Forest Graduate School of Management and is principal of ROI Consulting, helping family owners expand and pass down their business to subsequent generations. Previously, he worked at his family's 80-year-old privately held company, Fel-Pro Incorporated, managing Marketing and then Acquisitions, and serving on the Board of Directors until its sale in 1998.
Join the Financial Parenting Community
Read the first chapter
Press Coverage
# # #