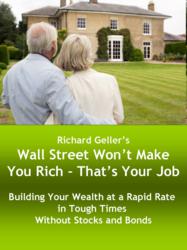 I learned more than my college classes --- the information is solid and current--in fact it is beyond current. I am amazed what I can do for my retirement that I had never before heard about.
Write some more books and I will buy them all!!!
Fairfax, VA (PRWEB) January 09, 2012
Richard Geller, CEO and managing director of FinancialSuccessInstitute.org, stated today, "we're proud that today the Institute rolls out the brand new landmark personal finance book Wall Street Won't Make You Rich - That's Your Job. The release of this revolutionary personal finance book is specifically timed to reveal to readers how they can triple their net worth in as little as three years and have a tax free income for life."
Geller continues, "Other than the elite top 5%, it seems nobody has enough money today to live the way they want. It doesn't need to be that way. The new book is a blueprint for going from crushing debt to a life of luxury and on to leaving your family a personal financial legacy. Follow this link to a short video if you want to immediately change your personal finance world.
Geller adds, "This revolutionary new personal finance book is based on a simple formula. If you want to become wealthy, you need to stop paying interest to others and start having them pay interest to you. Use the techniques that banks and family wealth builders have been using. Readers will be amazed how easy it is to become completely debt free in a matter of months and build a huge net worth for a tax free income for life."
Geller said the book also contains recipes for a new type of retirement plan that beats an IRA. "The IRA has so many problems today. The book is an owner's manual for retirement, that shows you exactly how to put almost 8 times as much money away as you can with an IRA. And it shows you how to invest your net worth in real estate, gold and other alternative investments."
Geller said that stockbrokers and financial planners he has spoken to are spooked about the release of the book. "They have told me in private conversations that they hope the Institute doesn't get traction with the book. It could kill what they have going on with stocks and bonds because retirement savings are now going to go out of stocks and into much better investments."
Geller emphasizes, "As readers can tell from the title - Wall Street Won't Make You Rich - That's Your Job, people can't depend on Wall Street financial advisors to solve personal finance problems. After people with personal finance trouble read the book, they will know how to turn personal finance trouble into personal finance success. The book is not a bunch of accounting gobbledygook. It uses plain every day examples of how the already rich stay wealthy and avoid common personal finance problems."
Even in pre-release, in just days, the book has already attracted numerous 5 star reviews on Amazon.com.
Geller concludes, "It might be ironic, but we believe that these tough times are ideal for people with financial troubles or insufficient savings to turn everything around. Unfortunately, people who follow what Wall Street is spoon-feeding them often come out the other side with even more personal finance troubles. Education is the key. And education means learning how to go beyond stocks. That's what the book reveals -- Wall Street Won't Make You Rich - That's Your Job.
About FinancialSuccessInstitute.org. The institute is devoted to educating readers and subscribes about personal finance alternatives and protecting wealth once acquired. Helping readers with personal finance trouble is only a small sample of resources available to subscribers. In addition to the personal finance solutions, other information readers can access includes self directed IRAs, self directed 401Ks, investing in real estate, debt settlement, legally minimizing taxes, super trusts, and asset protection.
Disclaimer: Information here and at FinancialSuccessInstitute.org is not legal or professional advice regarding personal finance solutions. It's intended only as general information sharing. Seek professional assistance regarding your personal finance troubles and applicable laws to assure you understand if Wall Street Won't Make You Rich - That's Your Job is the answer to your specific personal finance troubles.
###