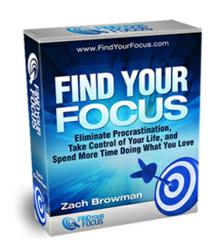 I felt like a man who'd suddenly been cured of an illness that had held me back my entire life...
Los Angeles, CA (PRWEB) September 21, 2012
"Find Your Focus is the latest program from self development expert Zach Browman," reports Clint Johnson of PUABooks.net. "Procrastination and a lack of productivity are two common plagues our readers suffer from, so we were excited to try the program and share our findings in our Find Your Focus review."
Zach Browman, a well known self help expert, made a name for himself during his tenure with Social Fluency, a company teaching social and business networking skills. Browman recently founded his own company Find Your Focus to specialize in overcoming procrastination and increasing one's focus and productivity.
Clint Johnson says that Find Your Focus course couldn't have come along at a better time:
"Recent economic conditions have convinced many people to start their own business ventures, write books, or go back to school in order to improve their lifestyle," says Johnson. "Unfortunately though, many people find that just having the drive to start a new project isn't enough. They need the ability to focus and follow though, and for most people these skills are severally underdeveloped."
Zach Browman himself struggled horribly with procrastination and cites this deficiency as the reason he developed the Find Your Focus system. Browman describes the relief he experienced upon eliminating procrastination from his life, "I felt like a man who'd suddenly been cured of an illness that had held me back my entire life," say Browman.
While some may question whether a lifetime of procrastination can be cured simply by following Browman's system, most who have been through the training agree that Find Your Focus has improved their ability to focus and accomplish tasks.
"My Inability to focus has cost me a lot over the years, and it always left me feeling stressed out" relates Johnson who has been using the course for the past 60 days. "Other programs I had tried only taught what Browman calls 'procrastination management' techniques, but Find Your Focus goes deeper and actually shows you how to eliminate the root causes. Since starting Find Your Focus I've had the two most productive months since starting my business."
Find Your Focus is available digitally online and includes extensive video training, an audio version, illustrated PDF guides, and worksheets with exercises to keep users on track. (To watch a special presentation from Zach Browman explaining the program at length Click Here)
To read a full review of Find Your Focus visit Clint Johnson's website: http://puabooks.net/find-your-focus-review-zach-browman-on-productivity/
Those wishing to purchase Zach Browman's Find Your Focus can visit the official website here.