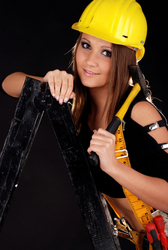 Finding great contractors should be simple and painless
Scottsdale, AZ (PRWEB) June 12, 2010
Sharperoo, a meeting place for homeowners and contractors, today announced the release of a free tool designed to help all types of contractors, from electricians to home builders, build and maintain business profiles on the Web. The profile management tool makes it easy for contractors to share information on their business, areas of expertise, key personnel and even special offers with prospects and customers.
"We've had countless conversations with great contractors throughout the United States who simply didn't have an online presence," said Brad Stephenson, a spokesman for the company. "One thing we kept hearing was that a lot of the tools currently available were difficult to use or cost too much. We are firm believers that great contractors shouldn't encounter these types of obstacles."
The Profile Management Tool is the first of many features that will be announced throughout the upcoming months as the site works towards an official beta launch. In its early stages, the site is already attracting thousands of daily site visitors as well as a steady stream of registered users interested in a free and easy way to find local contractors.
"It's becoming increasingly evident from our rapid growth that there is significant demand for free and open services in the home improvement sector," said Stephenson. "Finding great contractors shouldn't be as hard as it seems today. That is a problem we're actively working to solve."
To learn more about Sharperoo and register for a free account please visit: http://www.sharperoo.com/how-sharperoo-works
About Sharperoo
With over 1 million profiles of contractors throughout the United States, Sharperoo is the leading online directory of contractors throughout the United States. Homeowners who visit Sharperoo have free and open access to public data on contractors, community-driven reviews and information that the contractors themselves have provided. For contractors, Sharperoo provides a quick and easy way to create and grow a Web presence. Through the freely available tools on Sharperoo, contractors can easily create and share information about their businesses and work they've done. Started in August 2009, Sharperoo was incorporated in the state of Arizona, January, 2010 after an initial round of seed funding.
# # #