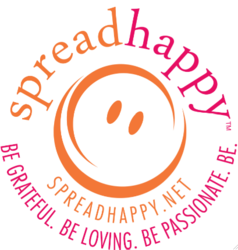 Boca Raton, Florida (PRWEB) September 20, 2012
Andi Evans is the founder of SpreadHappy ®. She is a speaker, teacher and writer on happiness, faith and optimism. Over the past year, Evans has shared her passionate message weekly on Philadelphia radio, creating 'the happy-half-hour'. She provides inspiration and practical tools to help others lead happier lives, build more positive relationships, and live in abundance! Her blog, Blog.SpreadHappy.com, has been nationally recognized by the prestigious Psychology of Eating Institute, and awarded "Top 100 self-help blogs", among the likes of Psychology Today and The Happiness Project.
According to Evans, our own peace of mind has tremendous impact on how our life unfolds. Today, with the alarming impact of peer pressure affecting our children, Evans' is passionate about sharing life lessons, and giving teens the tools to believe in themselves. She teaches that appearance, financial status, and others opinions are irrelevant. She stresses self-acceptance, non-judgement, and inner strength as important skills to nourish. She encourages teens to live from their heart, stop playing the blame game and follow their joy. She teaches that what we focus on grows, so why not focus on what brings you peace and happiness, and walk away from disruptive activities.
Evans shares her own inspiring story of trusting her gut, following her dreams, and manifesting her true desires. Her curriculum provides foundational principles for walking away from peer pressure, and recognizing that teens have a choice over their attitude and actions. Teens can: be, do and have anything they want in life if they apply the skills they will be given. The only thing that stops them from achieving their desires is lack of believing in themselves. The students will have an opportunity to explore what is truly important in life, and gain confidence in their own worth.
About Andi Evans, CHt.
Andi Evans is a speaker, teacher and writer on happiness, faith and optimism, and the founder of SpreadHappy.com. She has published articles with MindBodyGreen, Natural Awakenings Magazine, and other sources. She offers workshops and lectures in self- growth and living your best life. Her website is designed to inspire visitors to follow their joy, choose forgiveness, self-acceptance and learn from their current circumstances. Each experience in life is a gift, and recognizing that life is full of lessons is the first step to improving your current situation. She is a certified happiness coach studying under Dr. Robert Holden, author and creator of the Happiness Project. She can be heard weekly on Philadelphia radio 1180 WFYL, and live on the internet for Happy Hour radio.