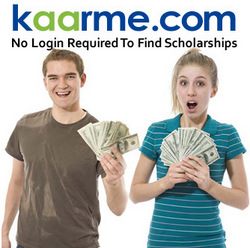 After surveying the college and scholarship search landscape, we were alarmed at the number of well-known educational companies who profit from selling their student's personal information to third parties
New York City, NY (PRWEB) October 20, 2009
Kaarme.com announced the official release of its new "Catch-Free"Scholarship Search today. The free website provides information on over 100,000 scholarship opportunities without requiring students to log in or divulge any personal information.
Each year, high school students and their parents go online to find scholarships at various scholarship search sites. What they may not realize is that many of these services profit by reselling the student's personal data. This practice has alarmed high-school counselors and administrators who are concerned about the legal implications of referring young students to sites that may also be "lead generators", selling the student data to anyone willing to pay for it.
One group of parents was concerned enough to build their own scholarship search service: Kaarme.com. Kaarme.com takes a new strategy to help more students find scholarships: give the scholarship information away for free and require no login. A relative newcomer to the college and scholarships search market, Kaarme.com does not require students to log in or provide any information to access scholarship information. Students may create an optional account if they wish, and enter information about themselves into a detailed profile, but this information is never sold, with users choosing what information they would like to share with colleges, scholarships, and coaches.
"After surveying the college and scholarship search landscape, we were alarmed at the number of well-known educational companies who profit from selling their student's personal information to third parties," says Mark North, CEO and founder of Kaarme.com. "Being a father of three myself, I wasn't comfortable with the existing sites and decided to create a system that both parents and counselors could trust and recommend to friends, knowing their student's personal information would never be exploited for commercial means. High Schools are removing their existing college and scholarship links and looking to Kaarme.com as a safe and credible replacement."
"Kaarme.com is a great resource for my students," says Joe Connolly, a guidance counselor from New Oxford High School, Pennsylvania. "I applaud Kaarme.com's mission to protect personal information and strongly recommend both our students and their parents use Kaarme.com together to identify possible colleges and scholarships."
In only its first few months of Beta operation, students, parents, and counselors have visited Kaarme.com's scholarship search over a quarter million times.
Please visit Kaarme.com for additional information or contact Sean McDonald sean.mcdonald@kaarme.com at (646) 414-0987.
About Kaarme.com:
Kaarme is a free networking and information site where high-school students connect with higher education. Students, athletes and parents use Kaarme to reach out to prospective schools and scholarships, engaging in two-way communication with college admissions officers, coaches and counselors. With Kaarme profile and search tools, students build resumes to promote their academic, artistic, and athletic talents to U.S. colleges, universities and scholarships.
###