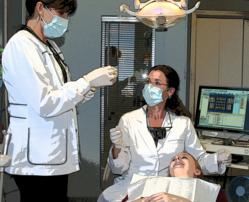 This examination provides each patient and their dentist with a roadmap to complete dental health.
(PRWEB) May 16, 2011
The treatment by a dentist affects one's smile, how they look and feel, what others think of them, aspects of one's overall health, their schedule, and their well-being; so why is it so common to trust just any dentist in the phonebook? The Dawson Academy helps patients find top dentists in their area with the launch of a new website. Additionally, The Academy is supplying the public with dental patient education on dental conditions, treatments, and services.
Over thirty years ago, The Dawson Academy began providing continuing education for dentists by teaching the Concept of Complete Dentistry. This concept instructs dentists to examine and treat teeth as part of the overall oral system, not just as stand-alone elements. This unique approach helps dentists identify causes of problems, rather than simply treating the symptoms. As a result, Complete Dentistry has provided more consistent, predictable and healthy outcomes for patients' oral health.
For example, a patient goes to their dentist to have a chipped tooth repaired. The Dawson Academy's philosophy teaches dentists that as they look to repair the tooth they need to determine the underlying cause(s) that led to the chipped tooth in the first place. Without correcting the problem that led to the chipping, the tooth will continue to break and the patient will end up in a loop of continuous treatment. This comprehensive approach to treating dental problems results in long-term stability, optimal oral health, and beauty – that lasts.
Another added benefit of Complete Care Dentistry is that dentists are instructed to look at each patient individually and to take into account their personal wants and needs. This is accomplished through a process called a 'complete examination'. This examination provides each patient and their dentist with a roadmap to complete dental health. Whether it is all done immediately or over many years, the benefits pay dividends to patients for the rest of their lives. This may sound like a no-brainer, but this approach is not practiced by most dentists.
The cornerstone of The Dawson Academy philosophy and treatment is to use the WIDIOM rule, which stands for, "would I do it on me?" This rule states that the treatment dentists recommend to their patients is the same treatment that they would consider for themselves or recommend to a family member. Afterall, if our dentists wouldn't want it done to them, why should they do it to anyone else?
Dr. Peter E Dawson, author and founder of The Dawson Academy, explains that, "Dawson dentists continually update their knowledge of the latest materials and methods so they are able to provide the finest in smile design that can stand the long test of time. We are not here to make tooth dentists, but rather, to create physicians of the masticatory system." In short, a Dawson trained dentist is not a typical 'drill and fill' dentist, but more of a highly trained mechanic for your mouth.
In response for the need to locate these highly skilled dentists, The Dawson Academy recently launched the website, FindADawsonDentist.com. This website is designed to provide patients with a credible resource to find an exceptional dentist in their area. FindADawsonDentist.com provides listings of dentists both within and outside the United States. In addition, it also provides patient education on subjects such as possible conditions for various signs and symptoms as well as what to anticipate for treatment of these conditions.
About The Dawson Academy
The Dawson Academy has been providing continuing education to dentists for over 30 years. The Academy is dedicated to teaching the principles and skills necessary for the successful practice of complete, quality, and predictable dentistry.
###