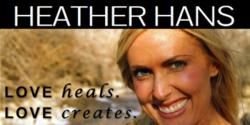 Boulder, CO (PRWEB) November 07, 2012
No one wants to face the holidays alone, so Love Coach and Psychotherapist, Heather Hans is offering insights and a free 20-min strategy session for people looking for success in the World of Love.
Success in life and love happens through repeated attempts and failure. Basketball great, Michael Jordan, said, "I've missed more than 9,000 shots in my career. I've lost almost 300 games. Twenty-six times, I've been trusted to take the game winning shot and missed. I've failed over and over and over again in my life. And that is why I succeed." The more toads you kiss, the sweeter the prince (or princess)! Here is a list of benefits we gain from adversity, and from missing the mark in love.
1.) Creates Resilience. Resilience is a process that allows you to live a happier, healthier, more successful life. Having opportunities to respond to adversity allows you to master your own mental game. "Pain is inevitable. Suffering is optional." ~ Al-Anon
2.) Motivates You to Examine and Learn. Each defeat allows you to learn more about yourself and your circumstances. And, remember, when a door closes on you, a more enchanting one opens a few steps up!
3.) Tests Your Desire. How badly do you want love, success, or anything else in your life? If you quit after a few failures, then you don't want it badly enough. Think of adversity as mile markers on the marathon to success.
4.) Gain more Empathy and Humility. Each time you "fail," you become more humble and empathetic to humanity, two of the most spiritual qualities that exist.
5.) Builds Strength of Soul and Character. Not everything worth achieving needs to be difficult, but there is a quiet, solid strength you gain when you've earned something through "blood, sweat, and tears." Whether it's a degree pursued through formal education, or wisdom through the school of hard knocks, you've earned it. Be proud.
6.) Allows you to Make Your Own Opinion of Yourself Primary. When someone dumps you or doesn't have the ability to see or match your value, it is an opportunity for you to grow yourself worth. One of the highest states we can achieve is when we are no longer affected by others' opinions of us.
Call Heather today for a complimentary 20-minute strategy session where she will reveal three things you can do right now to bring forth love in your life. For more information and updates on passionate, healthy, and soulful relationships like Heather on Facebook or follow her on Twitter.
About Heather Hans
Heather Hans, LSW, MSW, CPIC, MSBA, CPA specializes in helping people create extraordinary love in their lives. Heather is dedicated to the highest form of compassionate healing, combing her professional knowledge, ethical leadership and spiritual nurturance to serve the community. She leads therapeutic and educational workshops and serves clients in her private practice. For more information visit http://www.heatherhans.com/.