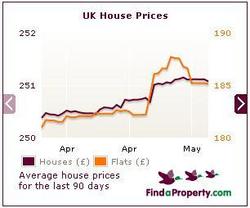 websites such as FindaProperty.com and Primelocation.com hold details of thousands of homes for sale both in your local area and nationally
(PRWeb UK) June 30, 2010
Now that websites such as FindaProperty.com hold details of thousands of homes for sale both in your local area and nationally from the most affordable (a £7,000 beach hut in Devon) to the most expensive (a Surrey mansion at £70 million), it begs the question - 'how much is my house worth?'
Here are the main sources of information if you're trying to find a way to 'value my home'.
1. Look at recent sold house prices on your road and in the area
Pros: Tells you how much houses like yours on your street may have sold for recently.
Cons: It doesn't tell you how many bedrooms a property that's sold contains, or much additional detail either other than if it's detached, semi or an apartment.
2. Search for local houses for sale that are the same as yours
Pros: This gives you a snapshot of properties like yours for sale locally and how much people think they are worth.
Cons: Asking prices are just the opening offer - what they sell for in the end can be very different.
3. Ask an estate agent to value your home
Pros: If anyone knows what your home is worth, it's should be a local estate agent. As well as detailed kerbside knowledge they also have access to subscription-only valuation tools and should therefore know what houses like yours have sold for in the past few weeks. The sold house price data available to you, on the other hand, tends to be at least two or more months out of date.
Cons: After valuing your home they will then want to sell it for you - so be prepared to field the follow calls.
But beware. There are websites which offer 'instant' online valuations of your home and, although they are interesting conversation starters, if used as a real measure of your home's value they can be woefully inaccurate and raise expectations that are later dashed.
A property is only worth what buyers will pay for it, so its final value will depend on several factors. This includes how energetic and competent your estate agent is, how desirable the area and whether there are two or more buyers bidding over your home. Other factors include the economic climate, time of year, mortgage availability and - to a certain extent - what the house looks like inside.
Two adjacent homes that look identical from the outside may be different inside. One may have more bathrooms than the other or have a loft or basement conversion - and therefore be worth more.
###