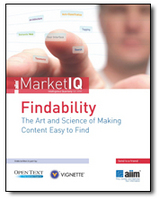 In fact, respondents report not knowing which system to use to find information, and the use of a single repository may simply be because there is only one system they have easy or useful access to. Siloed search is more often the norm than federated or universal search approaches at this time
Silver Spring, MD (Vocus) July 16, 2008
According to data collected from over 500 business users, 29-54% of respondents report choosing alternatives to traditional licensed software for their Findability solutions. AIIM's new Market IQ on Findability reveals that Findability is much more than simple "search" — it requires a set of techniques and technologies applied within an Information Architecture (framework) to successfully solve findability challenges. The variety of choices for solutions in this space has exploded in response to the ever-growing scale and complexity of the contents of most organization's digital landfills. The AIIM Market IQ on Findability is available for free download at http://www.aiim.org/findability .
"Organizations do not want more technology when it comes to Findability – they want solutions to their Findability failings - allowing employees, partners and customers to find the information necessary to accomplish their business objectives," states AIIM Vice President Carl Frappaolo. "Business users should not know or care how Findability is accomplished. At the same time, a slow realization is coming about in the IT department that 'ownership' of solutions does not require literally owning and maintaining every aspect of the final business solution."
No deployment method is perfect – each has its own strengths and weaknesses. Buyers should beware of vendors who claim any one approach is the one and only option. One significant factor in determining which type of solution would be most appropriate is the complexity of an organization's technical infrastructure. A specific concern is the number of repositories (i.e., e-mail servers, file servers, content management systems, portals, etc.) that enterprise information exists within, and whether it is possible to search all of those systems - whether individually or as a whole.
For respondents with simple, single source information systems (49% of non-AIIM member respondents), one might expect that Findability should be an easily solved problem. However, simplicity can be deceiving and dangerously misleading when it comes to the nature of "success" in Findability within the enterprise.
Within larger and more complicated information systems, five or more systems may be referenced in any given week (36% of AIIM members), and in general, it is easy to see that complexity varies widely across all respondents.
While it appears that there are certain organizations that have the most simplified information needs possible (only one system of reference), that seemingly good news needs to be combined with the finding that 69% of respondents believe that only 50% or less of their organization's information is searchable online.
"In fact, respondents report not knowing which system to use to find information, and the use of a single repository may simply be because there is only one system they have easy or useful access to. Siloed search is more often the norm than federated or universal search approaches at this time," stated Dan Keldsen, Director of Market Intelligence, AIIM and report co-author. In the ''Golden Age of Search'' we are still at the beginning of the journey. Confusion abounds from every angle of Findability, although slow progress is being made.
The AIIM Market IQ on Findability is available for free download at http://www.aiim.org/findability . The report is over 65 pages long, with 70 charts/figures, including user satisfaction with over 20 solutions.
About AIIM (http://www.aiim.org )
AIIM is the community that provides education, research, and best practices to help organizations find, control, and optimize their information.
For over 60 years, AIIM has been the leading non-profit organization focused on helping users to understand the challenges associated with managing documents, content, records, and business processes. Today, AIIM is international in scope, independent, implementation-focused.
AIIM is proud to provide its Market IQ research at no charge. In this way, the education, thought leadership, and direction provided can be leveraged by the entire community.
About the Underwriters
Open Text
Open Text, an enterprise software company and leader in enterprise content management, helps organizations manage and gain the true value of their business content. Open Text brings two decades of expertise supporting 46,000 customers and millions of users in 114 countries. Working with our customers and partners, we bring together leading Content Experts to help organizations capture and preserve corporate memory, increase brand equity, automate processes, mitigate risk, manage compliance and improve competitiveness. For more information, visit http://www.opentext.com.
Vignette
Vignette helps organizations improve the way they connect online with their key audiences. Our customers are leaders in their respective industries in no small part because they have executed well on their Web strategies. Our unique contribution lies in our technology and our ability to leverage that technology in support of those diverse strategies. http://www.vignette.com
For more information, contact:
Beth Mayhew
Director of Marketing
301.755.2681
bmayhew@aiim.org
Carl Frappaolo
Vice President
617.933.2584
cfrappaolo@aiim.org
AIIM - Find, Control, and Optimize Your Information
1100 Wayne Avenue, Suite 1100, Silver Spring, MD 20910, 301.587.8202
###