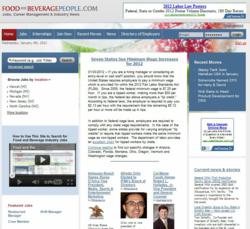 In less than 2 1/2 minutes, I'll personally explain to you how easy it is to find jobs that interest you.
Princeton, NJ (PRWEB) January 05, 2012
Since its official launch in September, 2011, FoodAndBeveragePeople.com has been consistently building its audience. According to Google Analytics, between October 1 and December, 31 2011, the website's visits grew by over 240%.
From the beginning, the mission of FoodAndBeveragePeople.com is to help people build their careers in the food and beverage industry, no matter what part of the country they live in, or what skills they currently have. Because the site is relatively young, and stays away from distracting its audience with a lot of flash ads, users may not realize that the website includes a database featuring the widest cross section of United States food and beverage jobs available.
To encourage our busy audience to trial the powerful jobs database without having to learn by discovery, a YouTube channel was created http://www.youtube.com/FoodAndBeveragePeopl and the website published the first YouTube video which demonstrates three ways to search for a food and beverage job.
Cohen, who has decades of experience in helping people find jobs, said recently, "I have helped so many people over the last ten years learn how to use websites, usability has become one of my passions. That's why FoodAndBeveragePeople.com provides multiple access points and methods for viewing the database. In less than 2 ½ minutes, I'll personally explain to you how easy it is to find the jobs that interest you."
As an added convenience, the video will be available from the front page of FoodAndBeveragePeople.com through the middle of January.
About the website: FoodAndBeveragePeople.com (food and beverage people dot com) is for and about the people that drive the food and beverage industry in the United States. Industry professionals at every stage of their career will find job listings, news, newsmakers and industry trends to inform their business and career decisions. Individuals needing to keep up with the vast food and beverage industry, but with little time to spare can sign up on the site for free e-mail newsletter service or follow us on http://twitter.com/foodandbevbiz or http://twitter.com/foodandbevjobs
# # #