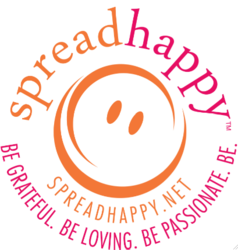 Delray Beach, FL (PRWEB) April 17, 2012
Delray Beach welcomes Andrea Evans for a two-day seminar on The Spreadhappy Philosophy April 30th and May 7th.
Ms. Evans is the founder of SpreadHappy. She is a speaker, teacher and writer on finding happiness, and over the past year, has shared her passionate message weekly on Philadelphia radio, "the happy-half-hour." She provides inspiration and practical tools to help others lead happier lives, build more positive relationships, and live in abundance.
According to Evans, our own happiness impacts our life greatly, and molds who we are, how we live our life, our finances, our health, even our jobs. She states that today, we tend to run at full speed, missing the beauty in life, pursuing happiness, when happiness is within all of us already. Being happy is a simple choice, and a change in perspective, a re-conditioning, she says. Her passion for sharing the message of forgiveness, self- acceptance and self-love is clear in her obvious genuine style. She shares her own inspiring story of trusting her gut, following her dreams, and manifesting her true desires. Her workshops provide foundational principles for living a happier, more balanced life in the midst of stress and crisis. Attendees leave with specific actions to practice in order to let go of past conditioning that burdens most, and increase the experience of happiness in life, work and studies. Attendees are also reminded of how much control they have over attitude, which can have great affect in any outcome, even in challenging times.
This two-day engagement will share Ms. Evans' secret to happiness, The Spreadhappy Philosophy. Through real life experiences and growth, Ms. Evans will lead an interactive discussion that will encourage participants to let go of old, debilitating habits, and bring happiness and contentment into their daily lives now. Attendees will leave with an understanding of the steps needed to make uncomplicated changes in their existence with the goal to reach their desired happiness.
Attendees will experience self-discovery, inner inquiry, and guided meditation, which Evans' likens to a massage for the soul. She states we all spend so much time trying please others, we usually forget about ourselves. It is only when we feel whole and complete, that we can truly give to others from our heart.
The Happier You! Workshops Monday, April 30th and Monday, May 7th, 11:45 AM-2:45 PM at Lifestyle Martial Arts (900 E Atlantic Ave # 18 Delray Beach, FL 33483
(561) 865-5672) In Delray Beach, $45 per class. Reservations are required. For reservations, call 561-672-0200 or email andi(at)spreadhappy(dot)com.
About Andi Evans:
Andi Evans is a speaker, teacher and writer on happiness, and the founder of Spreadhappy.com. The website is designed to inspire visitors to follow thier joy, choose forgiveness and self-acceptance, and realize each experience in life is a gift. She is a certified happiness coach studying under Dr. Robert Holden, author and creator of the Happiness Project, and certified in hypnosis as well. She can be heard weekly on Philadelphia radio 1180 WFYL, and live on the internet for Happy Hour radio.