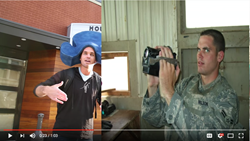 While I was overseas and away from my family and friends, I often thought about the creation of this film and told myself I would finish the project when I returned home
Asbury Park, NJ (PRWEB) November 10, 2016
James Douglas (JD) Wilson is a military veteran who served four years overseas in support of Operation Iraqi Freedom as an Air Force Military Police Officer before returning home to be a 4th grade school teacher. He is now on a new mission: To find Quentin Tarantino. 
Wilson came up with the idea for his latest film, Kill Mills, while in college, before he was deployed to Iraq. "While I was overseas and away from my family and friends, I often thought about the creation of this film and told myself I would finish the project when I returned home – it was a nice short-term escape for me. Tarantino is a creative force who doesn't play by the rules, and I got hooked at a young age," says Wilson.
Wilson teamed up with his childhood best friend, Nick Norcia, and together they wrote, produced, directed, edited, and starred in Kill Mills, a feature length satirical tribute to Quentin Tarantino's works.
The world premiere of Kill Mills will be November 26th at the House of Independents in Asbury Park, NJ. Wilson and Norcia self-funded the production with the help of friends, family members, and volunteers (including the talents of more than 100 onscreen actors). Wilson is now on the search for Quentin Tarantino to find out what charity he would like the proceeds of the premiere to be donated to.
"This has been a 12-year passion project made possible by Quentin Tarantino and the amazing people around me," says Wilson. "I'd love nothing more than for Mr. Tarantino to make it to our screening. I know it's absurd, but then again so is this movie that we made." He adds, "I am sure he is a busy man, so regardless if he can make it or not, we want to honor him by donating the proceeds of the premiere to a charity of his choice."
About Kill Mills:
In a world where cereal is king, men are measured by their milk consumption. The outcasts in this society are the lactose intolerant, referred to as "Lackies." The Milk Men (Ryan Maher, Michael Bochicchio, Andrews Behrens, Wesley Bailey III, Connor Effenberger, JD Wilson, and Nick Norcia), a group who act as kid-friendly breakfast cereal mascots by day and Lackie-slaughtering mercenaries by night, take orders from the evil Colonel Mills. After tragedy strikes the family of lackie Yolanda Wallace (Natalie Hayes), Yolanda sets her sights on defeating the Milkmen, one by one.