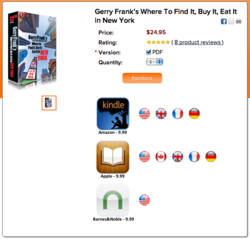 "TapBooks has provided astounding expertise in bringing Where to Find It ... into the digital world."
(PRWEB) November 30, 2011
Since 1980, New Yorkers and visitors alike have long relied on the most comprehensive and trusted 'Big Apple bible' – exhaustively researched and updated by author and urban explorer Gerry Frank. Now in its 17th print edition, the author has personally called on hundreds of stores, restaurants, museums and hotels, and he and his staffers have revisited by phone with virtually every listing in this book. TapBooks has proudly been chosen to take this astounding body of work to the digital world and the first eBook edition is now live and available to readers in PDF format, on Amazon (for Kindle), Apple (for iPad/iPhone), Barnes & Noble (for Nook) and coming soon to other platforms.
"We are honored to work with Gerry Frank to take his highly-respected guidebook digital. His dedicated readers typically buy every edition and can now have the eBook in the palms of their hands as they explore Manhattan," says Karen Henrich, TapBooks publisher. "I fully appreciate the dedication, hard work and heart that goes into researching, organizing and then finally writing the copy in an engaging way for readers in the documentation of one of the world's most exciting cities. It's beyond impressive what Gerry has done."
LOCAL AND DEDICATED EXPERTS
TapBooks is quickly making a name for itself in the local travel genre and other hyper-niches by working with authors and writers who are high-living, on-the-street explorers. Not merely on assignment, these experts are truly living the dream and documenting it in their beloved cities such as New York, Paris, San Francisco and London. Gerry Frank became an authority on New York City as a result of having one foot in the Big Apple while growing up and working in one of America's great department store (Meier & Frank) families. Later, he served as Chief of Staff for U.S. Senator Mark Hatfield in Washington, DC.
"Coming from the printed book world, TapBooks helped us to transform our print PDFs into a format suitable for digital publishing and then make it all work on the digital platforms," says author Gerry Frank. "Karen Henrich, TapBooks publisher has provided astounding expertise in bringing Where to Find It ... into the digital world."
ENGAGING FEATURES
Where To Find It, Buy It, Eat It In New York has more than 600 pages chock full of information, lists, recommendations and tips and tricks that cover restaurants and food, where to stay and what to do, and where to find the best in shopping and every kind of service imaginable in varying price categories. Bookmark favorite passages, make notes and instantly share great finds in the book with friends via twitter and facebook. The extensive Table of Contents instantly hyper-links to relevant parts within the book, and the ebook contains hundreds of website links that open upon clicking (this feature is eReader-dependent).
HOW TO GET THE EBOOK
Visit the Where To Find It, Buy It, Eat It In New York order page at: http://www.tapbookspublishing.com/products/GerryFrankNewYork.html. eBook versions cost $9.99 and are available in a number of countries including USA, Canada, UK, France, Germany and Australia, and $24.95 for PDF version (instant download).
AFFILIATE PROGRAM FOR NEW YORK CITY-RELATED SITES/BLOGS
Anyone with a travel or New York City-related website, blog or newsletter can join the TapBooks affiliate program for free and earn 35% commission from the PDF sale of Where To Find It, Buy It, Eat It In New York. To join, visit: http://www.tapbooks.org/idevaffiliate/index.php to start earning monthly commissions while at the same time as providing your readership with a valuable resource that they will thank you for introducing them to.
About TapBooks
TapBooks is an imprint of Chicwalks Media Inc. and helps authors to become published in the exciting digital publishing frontier of Amazon, iTunes & iBookstore, Barnes & Noble, Google eBooks and every platform that may come in the future. TapBooks wants to hear from authors who already have an established following and want to go digital with their works that serve niches such as travel, business, food, self-help, entertainment and other segments. TapBooks provides a unique platform for getting the word out about our wonderful authors and their works through social media, video marketing and niche affiliate programs. All TapBooks authors have hit Top 10 to 100 in several categories with their books on Amazon Kindle, and ChicWalks Shopping, an application on the iTunes AppStore has been featured by Apple and has hit Top 10 Lifestyle apps in 7 countries. Visit http://www.tapbookspublishing.com/ for more information.
For more information or to arrange an interview:
Karen Henrich, Publisher, TapBooks (an imprint of Chicwalks Media Inc.), karen(at)tapbooks(dot)org. Direct: (604) 628-2311
###