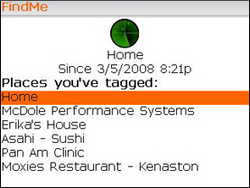 Social networking sites such as Facebook are removing geographic barriers to keeping friends connected, and FindMe adds a great new dimension by sharing locations among friends when and how they want to be seen
Wye Valley, UK (PRWEB) August 12, 2008
Electric Pocket, developer of mobile media and media applications for Smartphones, today introduces FindMe for Symbian S60 Series 3 devices, such as the hot new Nokia E71. FindMe, available since March for BlackBerry and Windows Mobile devices, enables users, their friends, family and colleagues to share their current locations automatically and securely through their smartphones without needing GPS. FindMe offers the opportunity to "tag" commonly visited locations, such as home, office, soccer field or favorite bars and restaurants, and post those locations on their Facebook profiles.
Unlike many location-sharing programs, FindMe doesn't broadcast geographic location information. Only the names of locations that the user has tagged will be shared on their FaceBook profiles. Since FindMe uses cell tower location rather than GPS, it will work with any smartphone.
FindMe puts the users in complete control of when where and how they share their locations, not only by letting them tag the locations they wish to share, but also by giving them the ability to "Go Dark" when they do not want their location to be broadcast. Only their last-named position and the time they were there will be displayed, and no information about the user's location history is stored or recorded. Further, when users are in a non-tagged area, their Facebook profiles will show their location as "Unknown" or another label selected by the user.
For those who may wish to organize impromptu get-togethers with friends, FindMe allows them to add additional location information, such as a favorite place's postal code, enabling the application to offer a map or directions to their current location.
"Social networking sites such as Facebook are removing geographic barriers to keeping friends connected, and FindMe adds a great new dimension by sharing locations among friends when and how they want to be seen," said Steve Bennett, Electric Pocket's chief executive officer. "With our innovative approach to tagging cell tower locations rather than using GPS, it opens up this capability to anyone with a smartphone and a free Facebook account."
Requirements and Availability:
FindMe is available for all S60 Series 3 smartphones at http://www.electricpocket.com/findme.
Patent pending: British Patent Application 0802520.7.
###