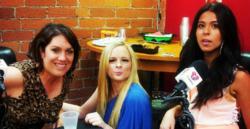 Make a list of all the things you want in a guy, then rip it up...
Los Angeles, CA (PRWEB) July 18, 2012
According to Life Coach and author Lisa Steadman, many women stay with men who have all the superficial qualities of the proverbial "Mr. Right," but who treat their ladies wrong and make them feel bad about themselves. On Episode 39 of Planet Love Match® Radio, Lisa Steadman and dating expert Jenna Couture joined the show to discuss how women wind up with men who do not make them happy, and how women can leave these destructive relationships and meet men who will make them feel happy and fulfilled.
"We all have this idea of what Mr. Right should look like, act like, what he should drive, what should be in his bank account," she said. "But, if that guy makes you feel like crap every day, then he's Mr. Wrong for you." Men who make a woman feel fat, unattractive or stupid harm her self-esteem and her general well-being. "Kick them to the curb," she said.
Steadman said that in any relationship that has gone longer than a few dates, it's necessary for a woman to break up with him in person, unless she feel that seeing him would lead to a confrontation. She said that, in that case, a phone call or email break up is fine.
Lisa Steadman is the author of international bestseller "It's a Breakup, Not a Breakdown". She is a sought-after guest speaker, and shares her insights on her Woohoo Radio and Woohoo TV shows.
When it comes to the break up of a shorter relationship, Jenna Couture said she is fond of the break up email or letter. Couture emphasized that these letters can be hard to write, and she said that the best way to start is to acknowledge that. "I was helping a friend write a break up email recently, and I found that a great way to start it is 'I've rewritten this sentence ten times,' which lets them know that this is difficult for you." From there, she said to keep it short and sweet. Couture said that someone ending a relationship should let the person she is leaving know that she thinks he is great, that this is not going to work out, but that she wishes him all the best.
Jenna Couture is a Sexuality Counselor and Intimacy Coach who coaches people in dating, sex and relationships at her site JennaTime.com. She discusses reality TV romance on Afterbuzz TV after "The Bachelorette" each week.
Steadman said that once a woman has freed herself of a guy who is not good for her, it is time to start thinking about what she does want in a relationship. "Make a list of all the things you want in a guy, then rip it up," Steadman said. She explained that these lists can blind singles to people who lack the superficial things that they desire, but who have the qualities that would make them truly happy.
Steadman said to give nice guys a chance. She explained that players may be exciting, but, they may not do the appreciative things nice guys would, like cooking dinner or telling their girlfriends that, just out of bed, they look beautiful.
Steadman said that any time a woman leaves the house is an opportunity for her to meet someone. Couture said that women should not be afraid to approach guys and make the first move. "Use your environment," to help figure out what to say, she said. For instance, if a woman is in a coffee shop, she should ask a guy if he has tried a particular drink. Or, even if they know the area well, ask for directions.
Steadman emphasized that when a woman does meet a guy, she should not jump right into a relationship. Steadman said that women should think of each new guy as Mr. Next, and carefully consider whether he is going to make her feel good and happy. "Get to know him," she said. "Remember that you have a choice."
Planet Love Match Radio airs every Thursday night from 7-8:00 p.m. PST on LATalkLive.com. Hosted by Jennifer Tapiero, the show encompasses all aspects of relationships, love, sex, dating and finding love online. Listeners are encouraged to call in with their questions during the show at (323)247-7443. Recent guests include: life coach Lorna O, screenwriter Steve Faber, author Sam Greenspan, dating expert Tripp, music producer Dwayne Corbitt, relationship expert and author Dr. Dennis Neder and many more celebrities and dating experts.
To watch highlights from the show, go to http://blog.planetlovematch.com/category/PLM-Radio.aspx
Planet Love Match Radio is sponsored by online dating website online dating website PlanetLoveMatch.com™.
About Planet Love Match®
Planet Love Match is an online dating website that provides singles with an immersive and interactive way to find and meet people online, no matter where they are. With free email and chat and over 50 ways to communicate, Planet Love Match is making it safer and easier for singles of every age, nationality, ethnicity, orientation and gender to find love online. Planet Love Match is powered by KABUUM®, a communication platform developed by Global Marketing Resources, Inc. Founded in 1995, GMRI is headquartered in Dunedin, Florida.