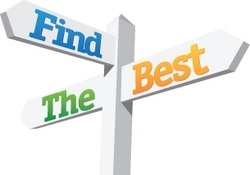 "FindTheBest is laying the foundation for unbiased comparisons," said Kevin O'Connor, CEO of FindTheBest.com. "
Santa Barbara, CA (PRWEB) December 1, 2010
Comparison engine FindTheBest.com today received Series A funding from Kleiner Perkins Caufield & Byers' sFund.
As the Web grows increasingly unruly, FindTheBest, a socially curated comparison engine, is focusing on organizing products and services on the Web so people can make faster and more informed decisions, unhindered by marketing bias. FindTheBest's filters allow users to sort information unique to their needs, in order to choose products best for them.
FindTheBest has about 440 comparison apps spread across nine broad categories ranging from Education to Sports to Technology. Each comparison app is organized into a simple chart where you can view products on objective apples to apples basis. Here, smart filters make it easy to view only what you need.
For example a comparison app on business schools includes acceptance rates, median GMATs, tuitions and average postgraduate salaries, while related apps provide details on the location, scholarships and job salaries. In another example, the smart phone comparison app presents the listing with photos, expert ratings, price, screen sizes and talk times. Social tools make it easy for users and companies to add, edit and share data as well as write reviews and rate products.
Features such as expert ratings are presented in a weighted compilation of scores, so that consumers need only to go to one site to get an objective and accurate rating. FindTheBest also presents visual comparisons in the form of charts and maps. These streamlined comparisons are well suited to mobile screens. FindTheBest will rollout mobile compliments in the New Year.
"FindTheBest is laying the foundation for unbiased comparisons," said Kevin O'Connor, CEO of FindTheBest.com. "Edited by our researchers, updated by users and layered with friend's recommendations, this becomes a powerful tool for making quick and informed comparisons."
KPCB's sFund was launched in October with strategic partners to focus on start-ups creating the next generation of social products. Fund partners include Amazon.com, Facebook, and Zynga -- companies defining today's social and online environment.
"Social is igniting the next wave of innovation and will reinvent the Web as we know it," said Randy Komisar, partner at KPCB "Who better to rid the Web of its clutter than one of the original innovators, DoubleClick's co-founder and now FindTheBest's CEO, Kevin O'Connor?"
"This is an excellent opportunity to work with one of the most renowned venture firms as we head into the next wave of innovation," said O'Connor. "Randy shares our vision and together, we're looking forward to providing users with a trusted place to help make important decisions ."
ABOUT FindTheBest.com
FindTheBeat.com is based in Santa Barbara, California and run by Kevin O'Connor, serial entrepreneur and co-founder of DoubleClick.
Currently in beta, FindTheBest is an objective, socially curated comparison engine focused on organizing products and services on the Web. Edited by researchers, updated by users and personalized with social tools, FindTheBest assists people in making faster and more informed decisions
The goal is, no matter how big the Internet becomes, you—the user—will always have a place to go that will cut out the marketing schemes and allow for easy objective comparison in digestible formats.
ABOUT Kleiner Perkins Caufield & Byers
Since its founding in 1972, Kleiner Perkins Caufield & Byers has backed entrepreneurs in over 500 ventures, including AOL, Amazon.com, Citrix, Compaq Computer, Electronic Arts, Genentech, Genomic Health, Google, Intuit, Juniper Networks, Netscape, Lotus, Sun Microsystems, Symantec, Verisign, and Xilinx.
KPCB portfolio companies employ more than 250,000 people. More than 150 of the firm's portfolio companies have gone public. Many other ventures have achieved success through mergers and acquisitions.
###