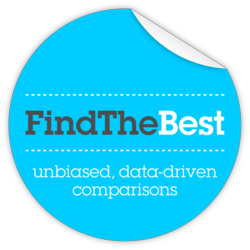 Santa Barbara, CA (PRWEB) January 23, 2012
By the time the end of January rolls around, many Americans who have resolved to lose weight this year, have given up on their resolutions all-together. But FindTheBest's Diet Plans comparison makes it easy to find the perfect diet plan tailored to a particular person's needs.
FindTheBest's Diet Plans comparison allows users to find the best diets for them based on diet type, diet goals, diet focus, methods and Smart Rating.
There are hundreds of different diets—from healthy diets and diets for high blood pressure to detox diets and gluten free diets. To find the perfect diet, use FindTheBest's smart filters and sorting tools to narrow options. Once a user has filtered down their options, FindTheBest's comparison tool allows users to compare their top diets in a side-by-side chart.
When comparing diet plans side-by-side, users should take care to select one whose focus, method, type and goals match their needs. Also, note the diet plan's Smart Rating, which combines expert reviews with quantitative scores. This single rating reflects the weighted average of scores from the most trusted experts and the Quantitative Rating, an unbiased scoring of the product or service's key metrics.
Dieters should take care to make sure the diet method associated with the diet plan they choose is realistic. Diet methods range from calorie counting and fixed menu to exercise intensive and meal replacement. Dieters who are not conditioned for intense exercise should not choose a diet plan that involves rigorous exercise. Similarly, dieters who enjoy a broad range of foods should think seriously about whether or not they will be able to commit to a specific-food or fixed-menu diet.
For those who need some help finding their perfect diet, use FindTheBest's Diet Plans Guide, which alerts users about what to look for and what to avoid when selecting a diet plan. The guide also explains and defines different types of diet plans—including cleanses, high-carb diets, high-protein diets, low-calorie diets, vegan diets, vegetarian diets, low-sodium diets and more.
When selecting a diet, it's important to remember that diets should be personalized and tailored to the dieter; while one diet might work well for one person, it might not work for another. It's important to be clear about desired goals and outcomes before looking for the right diet. Finally, remember that dieters serious about losing weight need to stick to a diet for several weeks before seeing results.
About FindTheBest
FindTheBest is an unbiased, data-driven comparison engine. We organize and present data in a consumer-friendly format so that you can make quick and informed decisions based on what's important to you.
###