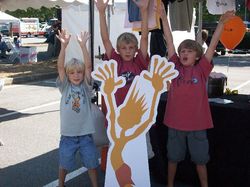 I wish for every person young and old to find their 'Primo' and to take the time to celebrate every time they do
Alpharetta, GA (PRWEB) April 2, 2009
According to Primo Activewear creator and owner Tanya Primo-Jones, to "Find Your Primo" is synonymous to finding that place within yourself that gives you the strength and determination to be or do the best that you can. Whether in sports, school, relationships, injury or illness the message of finding your inner strength, embracing your challenges, working hard, persevering, and believing in yourself to become a winner is the fuel behind this line of sports t-shirts. "I wish for every person young and old to find their 'Primo' and to take the time to celebrate every time they do", says Primo-Jones.
According to Primo-Jones, "life is a competition, whether you are competing against others to win or competing against yourself to be your personal best. It is finding that competitive spirit or 'Primo' inside of you that will lead you to your greatest successes". Primo Activewear t-shirts tout the importance of healthy competition and display an upbeat positive message for the boys of this generation.
The Primo Activewear brand is based around the personality and life philosophy of Primo, a lanky orange cartoon character who has funny hair, enormous hands, a huge heart and a zeal for life beyond most kids his age. He is fun, spontaneous and a real go-getter. He loves any new challenge and will jump in with two feet. He battles self doubt and nayers but will work hard, persevere and defeat...
Visit http://www.PrimoActiveWear.com to learn more about the Primo culture, read the whole "Who is Primo" story and to preview the entire line of 100% cotton sports t-shirts in youth and adult sizes. The website also reveals the original meaning behind "First 1 Up Wins"; the first collection of t-shirts in the Primo Activewear line. "Planet Primo" shares photos and Youtube videos of kids sporting their Primo t-shirts and finding their "Primo".
The Primo icon appears at least once on any given t-shirt whether big and colorful or as a subtle silhouette. The 6-16-year-old crowd are embracing the character and comfortable cotton t-shirts, while their parents are embracing the powerful message of working hard, persevering, and believing in yourself to become a winner.
Primo Activewear, LLC is a firm believer in giving back. Rock Star Fundraiser, Whispering Hope, Keagan Klassic, Ocee Elementary's Red Ribbon Week and http://www.CancerCanInspire.com are among the great organizations that Primo supports.
To learn more or obtain an interview contact Tanya directly at 770-235-3633.
###