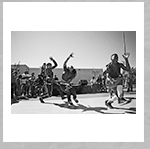 Every Day Visions is an ongoing series that pulls from the different roles that I find myself in throughout the week
Berkeley, CA (Vocus/PRWEB) July 06, 2011
For the past 36 years, The LightRoom has been helping photographers and various artists get started on their careers by providing printing services, a gallery for a showcase and workshops for students. This summer, The LightRoom is hosting an exhibit called "Every Day Visions," a series of black and white photographs by Joe Mintz. It will run until July 29.
"Every Day Visions is an ongoing series that pulls from the different roles that I find myself in throughout the week," said local artist Joe Mintz. "I am a student, a teacher, a musician, an artist, a partner and a friend. As I move through these roles in my day-to-day life, different projects arise and take shape. Although the images range in style and content, I believe there is a common thread that brings them all together to convey something about how I experience life."
Originally from Syracuse, New York, Joe Mintz is a photographer, musician, and artist. He has resided in the Bay Area for the past six years and is currently pursuing an undergraduate degree that combines social science and photography. As a musician, he has played at various venues in the East Bay. He also teaches photography, together with Arts Change at the RYSE Center in Richmond. He is currently developing a body of work that documents his students' initial contact with photography, as well as his unfolding experiences as a teacher.
"Photography is often about finding images in the outside world that resonate with the experiences, thoughts, and emotions of the inside world," Mintz added. "These images are about love, struggles, music, relationships, and growth. Every Day Visions is the place where all the different aspects of my life meet up. It is the place where everything comes together to communicate my own complex and unique worldview that continues to grow and change over time."
This August, the gallery will be in a short hiatus from official shows. Regular shows will resume in September. However, the printing services will remain available during this time.
For more details on their regular shows, fine art printing and photography services, call Robert Reiter at (510) 649-8111. They are located at 2263 Fifth Street in Berkeley. Check out their website, http://www.lightroom.com or become a fan of The LightRoom on Facebook.
About The LightRoom
The LightRoom has been helping photographers and other artists get the best prints of their images since 1975. They have been offering the best of digital printing services since the end of the last century, specializing in pigment inkjet printing in Berkeley. From film scanning to the preparation of any digital file to simply working with your own printer-ready files, they can help customers get the most from their work. If needed, they can also output digital files for printing on traditional photographic paper through the LightJet printer.
###