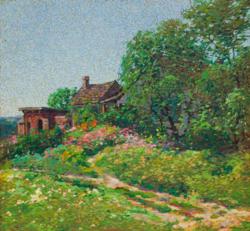 Charlotte, NC (PRWEB) February 12, 2013
Amongst more than 180 renowned international dealers, McColl Fine Art will be a part of the Palm Beach Art Antique Show at the Palm Beach County Convention Center, February 15-19. McColl will be presenting Fine American and European Paintings from the 19th and Early 20th Centuries, as well as Classical Contemporary Works of Art. The show attracts tens of thousands of private collectors, museum curators, investors and interior designers every year.
In addition to the 19th and early 20th Century collection, McColl is highlighting contemporary masters such as Carlos Madrid, Nicholas Hiltner, Donald Jurney, and Erik Koeppel. Another focal point of the event will be its acclaimed lecture series. This year's lecturers will include Tim Corfield, Kim Heirston, John Loring, Sally Rosen, Diane Warga-Arias, Carole Pinto, and Gordon Lewis.
There will also be a Private Preview Party on Friday, February 15 by invitation only. The show has partnered with Hope for Depression Research Foundation, and will feature a silent auction in which 100% of the proceeds for every donated item will go directly to the foundation to fund an actual grant. The bidding will go from 6-9 p.m. and will only occur on opening night at the party. Interested parties can contact McColl Fine Art for details on the limited invitations.
The Palm Beach Art Antique Show runs from February 15-19. For more information about the show, please visit http://www.palmbeachshow.com
About the company:
McColl Fine Art is one of the premier fine art galleries in the country. Located at 126 Cottage Place in Charlotte, NC, McColl Fine Art specializes in fine American and European paintings with a primary focus on 19th Century art and select works from early 20th Centuries, as well as Classical Contemporary works of art. They offer works of exceptional quality from periods including the Barbizon School, the Hudson River School, Academic painting, Impressionism and Post-Impressionism. For an experience unlike many other art galleries, please visit their website at http://www.mccollfineart.com for more information.