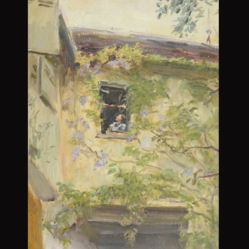 Alameda, CA (PRWEB) November 27, 2012
Of the European offerings, Alexander Van Rappard's "Cavaliers" is a rare opportunity to acquire a highly prized and rare work of art by this Dutch artist who died at the age of 34 (lot 2001). Other exceptional European lots include number 2006, a plein air oil painting by Max Slevogt, one of the finest German Impressionists of the early 20th century. The piece features an outdoor view of his sumptuous home and gardens at Slevogthof Neukastel. Lot 2004 by Hugo Kauffman depicts a tour de force rendition of figurative realism. Lot 2005 by Willy Sluiter offers the collector an opportunity to acquire one of the few works of art available by this early 20th century Dutch artist. A true gem is also found in a small red conte drawing of a nude female by renowned French Impressionist Pierre Renoir (lot 2014).
From the Russian Federation are three works of art by living artist Viacheslav Vasilevich Kalinin (b.1939) along with an early modern work by avant garde artist Alexander A. Osmerkin depicting his future wife E. T. Barkova. From the selection of American works is a rare view of the Pittsburgh steel mills by Jewish painter Aaron Gorson (lot 2024) and a recently discovered pair of illustrations by Harrison Fisher. Six works of art deaccessioned by the Tiffany Garden Museum in Matsue, Japan are included in the December 1st sale as well. Featured are high quality works of art by Lilla Cabot Perry (lot 2028), James Whistler (lot 2029), John La Farge (lot 2030), Robert Blum (lot 2031), Thedore Wores (lot 2073) and an exceptional large landscape by Arthur Wesley Dow (lot 2032).
A curious work on paper is seen in an early Edward Hopper drawing of his friend and work associate Walter Tittle, titled "The Illustrator." The piece was drawn in 1918 when the two artists shared an office at the New York Tribune Company. Of the Western offerings is a fine William Gollings (lot 2046) depicting two wolves at night stalking the horses of a Native American encampment. From the Pacific, an exceptional watercolor is seen by Millard Sheets of the Tahitian mountain "Moua Puta" (lot 2047). The painting represents one of the artists most desirable subjects and is featured as the cover lot for the December 1st sale. Lot 2048 by J.D. Strong Jr. depicts Hawaiian natives launching their outriggers off of Diamond Head. Other exceptional watercolors include five works by Jade Fon, an early Sydney J. Yard and a highly collectable view of "Magestic Oaks with Poppies" by Percy Gray (lot 2060). A vintage Californian piece features a large format view of Tomales Bay by George Demont Otis (lot 2078).
Notable from leading painter and pioneer of the Bay Area Figurative School, David Park, is "Spring" from 1952 (lot 2083).
Works on paper include a fresh pair of Marc Chagall's "Le Cirque" from the Teriade Edition (lots 2088, 2089) and prints by Joan Miro, Friedensreich Hundertwasser, Roy Lichtenstein, Louis Nevelson, Robert Rauschenberg, Keith Haring and an exceptional monotype by Elizabeth Murray.
For the first time Michaan's Auctions offers photography featuring prints by Stieglitz, Steichen, Imogen Cunningham, Ansel Adams, Ruth Bernhard, David Plowden, Bruce Davidson, W. Eugene Smith and four early prints from Brett Weston.
The illustrated auction catalog will be on-line for review at http://www.michaans.com. Previews open at Michaan's Auctions on November 30th and continue until December 1st, the day of sale. For more information please visit our website or call the front desk at (510) 740-0220. Michaan's Auctions is located at 2751 Todd Street, Alameda, CA 94501.
About Michaan's Auctions
Michaan's Auctions is a leading full service Bay Area auction house that specializes in antique appraisals and art auctions. Michaan's has the Bay Area's leading fine art appraisal experts in the fields of furniture and decorative arts, modern and contemporary art, European and American paintings and prints, jewelry, Asian works of art and ethnographic art.
Established in 2002, Michaan's Auctions sell art and other estate pieces at their thirty sales each year that attract a broad base of buyers and consignors from all over the world. With one of the largest facilities in Northern California, Michaan's offers buyers and sellers the opportunity to preview and bid on many unique and desirable properties with the Bay Area's lowest buyers premium.
Some of these Bay Area estate auction pieces sold for world record prices. In 2005, A.D.M. Cooper's oil painting, Three Graces 1915, sold for a record $21,060, and an Eduard Gaertner oil, German City Street Scene 1831, sold for $266,000.
Michaan's has built its reputation on its ability to accept single items, groups or entire estates with its "no risk consignment policy" free of hidden fees and charges. Michaan's specialists are dedicated to staying current on the latest issues and developments in the market and are committed to providing personalized and professional attention throughout the entire auction process.