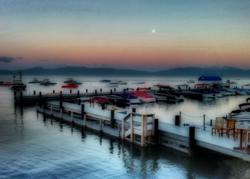 These cameras have attracted not just many photographers who enjoy using them, but an equally impressive number of fans who enjoy viewing this work.
Berkeley, CA (PRWEB) November 29, 2011
From November 30 through January 6, The LightRoom will be hosting the 2nd annual group show of photography from mobile phone cameras. The LightRoom's first show of such work a year ago turned out to be one of the most popular presentations the gallery has hosted. There will be a reception at the gallery (2263 Fifth Street, Berkeley, CA) on Saturday, December 10, from 2-5 p.m.
"With the advent of the smart phone and better in-phone cameras, most notably Apple's iPhone, what was once a tool of simple convenience and of no particular quality has blossomed in a few short years to a serious piece of equipment for many photographers," says Rob Reiter, owner of The LightRoom.
Reiter explains that mobile phone cameras have been instrumental in bringing people who would never think of themselves as anything but snap shooters to the realization that their phones can actually be a satisfying artistic outlet without demanding the technical discipline even the advent of digital cameras did not remove from the medium. Inexpensive programs (apps) that run directly on the phone allow the photographer to process and combine images with a high degree of artistic control but a minimum of technical know-how.
From point-and-shoot cameras to higher end professional level equipment, digital photography has ushered in an era of image quality not achieved in the days of film cameras. Reiter says phone cameras are not quite up to that level in overall and absolute quality in terms of resolution and perfect exposure, but their convenience and the development of photo apps anyone can easily use has encouraged an appreciation of just what these cameras can do, without the need to compare the results to real cameras. And, he notes, new cameras such as the one in the recently released iPhone 4S can actually be quite good for 'straight' photography when used in good light for prints up to 11x14.
The nine photographers participating in the show are: Robert Kato, Eleonora Ronconi, Gail Skoff, Janice Hughes, Larry Steuck, Ellen Fernandez-Sacco, Susan Eady, Marianna Nobre, and Jocelyn Konarsaki.
Most of the artists in this show used their phone cameras as a tool in a narrative body of work; some as ongoing explorations of what the medium is capable of, and some to create finished projects.
Gail Skoff, for example, will be showing a large fan-fold book of images exploring the life of a small village in France, making use of dolls and props to create set pieces photographed with her iPhone and processed in the popular app Hipstamatic. Robert Kato teaches iPhone photography and draws from an extensive body of work delving into many themes.
"For whatever reason, these cameras have attracted not just many photographers who enjoy using them, but an equally impressive number of fans who enjoy viewing this work," notes Reiter. "The show in The LightRoom gallery in December represents some of the best work now being done in the Bay Area."
For more information about the mobile photography show or any of The LightRoom's products or services, call them at (510) 649-8111, visit http://www.lightroom.com, or stop by the gallery, located at 2263 Fifth Street in Berkeley. Become a fan on Facebook at http://www.facebook.com/pages/The-Lightroom/260012128840?ref=mf.
About The LightRoom
Since 1975, The LightRoom has been a destination for Bay Area fine art printing for photographers and other artists. The Lightroom offers film scanning, digital file preparation, inkjet printing, and their specialty, archival pigment (giclée) printing. The Bay Area photography printing experts also showcase the work of their many talented clients at their studio gallery.
###