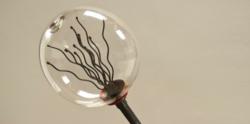 We're thrilled to host Bella's inspiring creations at Nieto Fine Art
San Francisco, CA (PRWEB) October 14, 2011
On Thursday, October 20, 2011, Nieto Fine Art San Francisco premier art gallery located in the heart of the Financial District, is hosting an opening reception to celebrate the creations of renowned multi-medium sculptor Bella Feldman from 6-8 PM. In an exhibition entitled "Anxious Objects," Feldman presents her train of visual thought from 1971 to present day. Her extraordinary and extremely unique objects are made from a variety of organic and synthetic materials, such as cast aluminum and bronze, resin saturated fiberglass, steel, wood, glass, paper, and more recently, canvas and paint.
The materials for Feldman's sculptures are meticulously selected not only for their structural properties, but also for the metaphorical references they entail. "We're thrilled to host Bella's inspiring creations at Nieto Fine Art," said Gallery Curator and Owner Anaya Nieto. "Her work directly reflects her life experiences as a female living in the Twentieth Century, and to showcase her brilliance is an honor." Feldman's work derives from someone who has been directly affected by the Great Depression, World War II, the Holocaust, and the Korean and Vietnam Wars.
Feldman's exhibition will also be available from Oct. 19 - Nov. 20 at Nieto Fine Art, and is open to the public. For more information about San Francisco's fine art gallery, Nieto Fine Art, call (415) 393-4511 or visit them online at http://www.nietofineart.com.
About Nieto Fine Art
Nieto Fine Art is a San Francisco premier art gallery located in the heart of the Financial District, Co-curated and owned by Anaya Nieto and under the Direction of John Haas. It is a vision brought to reality by Nieto to invigorate the San Francisco art community with the works of his father, John Nieto, along with a dynamic line-up of talented painters and sculptors providing a fine art gallery and fine art shows. Nieto Fine Art commits itself to bringing a fresh, changeable charge of emotion to the community of contemporary artists. Nieto Fine Art is located at 565 Sutter Street in San Francisco.
###