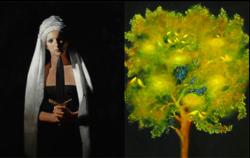 The charm I see in Linda's work complements nicely the symbolism presented through Ray's pieces
San Francisco, CA (PRWEB) November 29, 2011
On Friday, December 2, 2011, Nieto Fine Art, a premier San Francisco fine art gallery located in the heart of the Financial District, is hosting an opening reception to feature the work of accomplished artists Ray Donley and Linda Larson from 6-8 p.m. Aptly titled, "Gestures of Light," by Nieto Fine Art owner and co-curator Anaya Nieto, the joint-exhibition was chosen to highlight the similarities, as well as showcase the contrasts, between the two collections. "The charm I see in Linda's work complements nicely the symbolism presented through Ray's pieces," said Nieto. "Combining the collections for exhibition seemed like a natural thing to do."
Established artist Ray Donley has been exhibiting in museums, universities, and galleries within the U.S., Europe, and Mexico since 1981. The figures portrayed in his paintings form a part of the cycle of work he calls "Los Bien Perdidos" (the profoundly lost ones). "Above all, I seek to create an art that, while seemingly possessing a Renaissance or Baroque pedigree, is itself rich with its own mythic and symbolic potential," Donley explained. "In this way, I hope to express something authentic, about the human condition."
Linda Larson grew up in Scotland and graduated from the Charles Rennie, Mackintosh Glasgow School of Art with an honors degree in Fine Art. Larson came to San Francisco to continue her studies, and early in her career, developed a highly successful line of art cards, along with other commercial art. Recently, her focus has returned to her first love: oil painting. "I like to paint what I know: the mundane and familiar, but also the little glimpses of magic that enrich the every day," Larson said.
The "Gestures of Light" exhibition will be available, and open to the public, from Dec. 2 – Jan. 6, exclusively at Nieto Fine Art.
For more information about this San Francisco fine art show and Nieto Fine Art, call (415) 393-4511 or visit them online at http://www.nietofineart.com. For all media inquiries, please contact Claudia Ross at claudia(at)crossmarketingpr(dot)com.
About Nieto Fine Art
Nieto Fine Art is a premier San Francisco fine art gallery located in the heart of the Financial District, co-curated and owned by Anaya Nieto, and under the direction of John Haas. It is a vision brought to reality by Nieto to invigorate the San Francisco art community with the works of his father, John Nieto, along with a dynamic line-up of talented painters and sculptors. Nieto Fine Art commits itself to bringing a fresh, changeable charge of emotion to the community of contemporary artists. Nieto Fine Art is located at 565 Sutter Street in San Francisco.
###