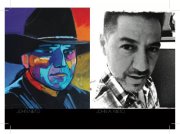 The combination of my father's sensitivity with his technical versatility, and my brother's unique approach to capturing exquisite moments in time, has become the vehicle that allows our gallery to transcend the ordinary
San Francisco, CA (PRWEB) January 24, 2012
On February 24, 2012, Nieto Fine Art – a premier San Francisco's fine art gallery – will host an opening reception for the work of contemporary artist John Nieto and photographer (and son) John A. Nieto. The reception will be the first-ever showcase for the father-son exhibitions together, which have been (separately) locally and internationally featured and praised for several decades. The evening will highlight the unparalleled level of talent, in one family; from gallery owner Anaya Nieto's eye for curating, to John and John A.'s painting and photography skills.
John Nieto is one of the country's most dynamic contemporary artists, whose personal philosophies are a vital element of his consummate style. "I employ a subject matter that is familiar and express it the way I see it," Nieto explains. "I focus on the use of vibrant color and strong assertive lines." His distinctive style, combination of subject matter, bold comparisons and searing color, is instantly recognizable, and has been showcased in over 40 galleries and museums both local and international.
John A. Nieto, Nieto's elder son, has created a name for himself through the lens of a camera. His collection has been featured in dozens of galleries and fundraisers in the San Francisco bay area. "The camera provides this perspective to freeze and observe a moment in time that I can assign an emotional impact to," Nieto explains. "When that connection happens in a photograph to me, it's like getting plugged in to some part of me that ignites pure, raw, magic." Most recently, Nieto has been drawn to photograph dancers, mesmerized by the rhythmic movement of their bodies, as portrayed in his "Aquatic Ballet Series" shot in Palm Springs, CA.
"The combination of my father's sensitivity with his technical versatility, and my brother's unique approach to capturing exquisite moments in time, has become the vehicle that allows our gallery to transcend the ordinary," says Nieto Fine Art owner and curator Anaya Nieto (Nieto's younger son).
The opening reception will take place on February 24, 2012, from 6-8pm at Nieto Fine Art on 565 Sutter Street. All are welcome.
About John Nieto
John Nieto is one of America's most dynamic contemporary artists, concentrating on themes that transcend mere representation. He utilizes intense primary colors, applied in bold strokes to give dimension and character to the canvas, and employs classic linear techniques to create images of great detail and depth. John Nieto's family roots run deep in New Mexico, as it has been his ancestral birthplace for more than 300 years. John and his family have lived in various northern New Mexico towns and now reside in Texas. He has two sons, John A. and Anaya Nieto.
John A. Nieto has been a resident of San Francisco since 1995, where he has remained fascinated by the diversity in "this forever-changing town." He prides his work on spontaneity, and capturing fleeting moments of going through life, often with the ones that he claims "make it worth living. "
About Nieto Fine Art
Nieto Fine Art is the premier art gallery located in downtown San Francisco. The gallery is years in the making, fulfilling the work of brothers Anaya Nieto and John A. Nieto to invigorate the San Francisco fine art community with the works of their father, John Nieto, along with a dynamic line-up of painters and sculptors. Under the Direction of John Haas, Nieto Fine Art commits to bringing fine art shows and a fresh changeable charge of emotion to the community of contemporary artists. Nieto Fine Art is located at 565 Sutter Street. For more information, visit http://www.nietofineart.com or contact the gallery at (415) 393-4511.
# # #