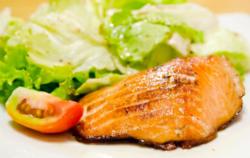 Entrees like Florida Roasted Chicken and Pasta Alla Rosa are two specialties that are not typically available at chain steak restaurants.
Seattle, WA (PRWEB) January 23, 2013
With more than 100 restaurants in the Jacksonville, FL area, restaurants are constantly competing for the attention of the public. One established restaurant is now offering fine dining as a way to provide an alternative to fast food restaurants or common eateries. LeGrand's Steak and Seafood is now providing its selections of steak and seafood on its fine dining dinner menu. This menu is available for viewing at http://www.legrandssteakandseafood.com
This menu has been designed with locals and tourists in mind who visit the Mandarin area searching for an excellent meal.
LeGrand's new dinner menu includes a two-part menu that is designed to offer as many options as possible for individuals or families who sample the cuisine now offered. The Signature LeGrand menu has helped to build the reputation of this restaurant. Entrees like Florida Roasted Chicken and Pasta Alla Rosa are two specialties that are not typically available at chain steak restaurants.
By listening to the public and its courteous staff, the management team at LeGrand's Steak and Seafood have been able to integrate new ideas that now attract a growing dinner crowd.
"Since we're locally owned, we can act quickly without corporate bureaucracy," said Ron LeGrand, a manager at LeGrand's. The private ownership of the restaurant has provided an easier route of communication between staff and management to help further the offerings that are appreciated by the locals and tourists. "More cool ideas are in the works to help brand this restaurant," added LeGrand.
As part of the new menu items available, a brunch menu has been added for Saturday and Sunday. This menu includes Signature LeGrand breakfast items like benedicts and steak and eggs. A variety of soups, salads, desserts and sides are also available to provide pleasurable culinary experiences for all guests.
The expanded business hours recently enacted have helped LeGrand's to provide seven days a week service for locals. This Monday through Sunday schedule is now expected to continue to help more people experience the expanded menu and upcoming offerings that are scheduled for integration in 2013. A new overview and video can be viewed on the Florida Times Union website at this link.
Reservations, questions and media inquiries can be obtained by using the following contact information:
LeGrand's Steak and Seafood Restaurant
11290 Old St. Augustine Road
Jacksonville, FL 32257
(904) 268-3663
About LeGrand's Steak and Seafood
LeGrand's Steak and Seafood opened its doors in late summer of 2012 and quickly made an impression in the greater Jacksonville, Florida area due to its extraordinary culinary offerings to guests who visit this restaurant. By creating a welcoming and family-like atmosphere, guests arriving for a first time or repeat visit get to sample the amenities of this growing eatery. The updating of its menu items and consistent incentives to guests has helped to concrete LeGrand's Steak and Seafood into a higher class of restaurant without the high prices. LeGrand's is open seven days a week and now serves a full menu of brunch, lunch and dinner entrees and sides.