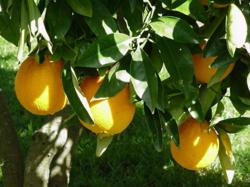 We have an amazing organic garden right here on the estate
Healdsburg, CA (PRWEB) May 13, 2011
At Madrona Manor, a restaurant and hotel located in Sonoma County, the estate garden-to-table program is off to a bountiful start. The Chef and Chief Gardener have teamed up to bring diners gourmet meals made with fruit and vegetables fresh from the estate garden.
Throughout the four acres of estate gardens carefully tended just footsteps from the Madrona Manor, situated in Dry Creek Valley of Sonoma County, spring is beginning to come into full effect. Each January, the year's garden and fine dining menu are jointly planned by the Chief Gardener Geno Ceccato, designer and tender of the Madrona Gardens for 25 years running, and Chef Jesse Mallgren, a precocious chef who trained among some of the most esteemed names in the culinary world. Both of their names proudly appear atop the Madrona Manor dinner Menu.
"We have an amazing organic garden right here on the estate," said Jesse. "I love to stick my nose right into the box of fresh-picked quince that will later be accompanied by foie gras. It's the aromas of a fresh succulent peach warm from the sun that drips down your arm when you take a bite..." Jesse mixes the bounty of the estate garden with other locally-sourced ingredients and wild-caught fish to create his inventive New California cuisine.
The gardens are currently overflowing with fava beans, asparagus, mizuna, radish, beets, arugula and nettles. The finest produce is selected from the bounty and goes straight into each dish that Jesse prepares. "The asparagus is exceptional this year," revealed Geno.
In a rare and special Wine Country experience, diners are free to wander the lovely garden estate, set against a storybook-like manor, before returning to their tables to find Michelin Star-rated food and wine pairings.
Garden-to-table programs are becoming quite popular right now with restaurants and garden enthusiasts alike throughout the Bay Area. A garden-to-table event was even featured in the San Francisco Flower and Garden show this year. A list of famous Bay Area chefs, featuring Alice Waters, lent their talents to preparing edible art using freshly harvested ingredients.
Sonoma and Napa luxury hotels like Madrona Manor are quickly picking up the idea; although, as Kevin West, Madrona's Hotel Manager notes, "This is the only Michelin Star restaurant I know of where guests can literally stroll through the gardens before being seated at their table."
For more information about the garden-to-table experience or about the Madrona Manor property and restaurant, call them at (866) 319-8212 or visit them on the web at http://www.madronamanor.com.
About Madrona Manor
Nestled in the hills above the Dry Creek Valley of Sonoma County, Madrona Manor is an exceptionally lovely Victorian estate surrounded by eight acres of wooded and landscaped grounds. The Mansion, built in 1881, has been a destination for discerning guests seeking a stay in the gracious wine country of northern California since 1981. Whether visitors come to get away from it all, or to reconnect with friends and loved ones, Madrona Manor is one of the finest locations for an out-of-town weekend, party, executive retreat, or wedding in Napa or Sonoma Counties.
Visitors are invited to enjoy a romantic meal in the acclaimed restaurant, engage in quiet conversation with drinks on the veranda, or relax by a cozy fire in the winter or the pool in the summer. At the end of the day, a peaceful night's stay awaits guests staying in any of the elegant rooms.
# # #