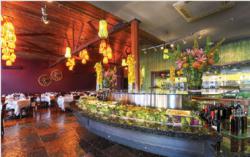 This is the new drinking scene in the Peninsula
San Mateo, CA (PRWEB) August 04, 2011
Espetus Brazilian Steak House, a San Mateo downtown restaurant announces they are helping customers beat the mid-week blues with Caipi-Hour every Wednesday and Thursday evening from 5 to 7 p.m. Patrons are invited into the restaurant's piano bar to enjoy cocktails and hors d' oeuvres. Bar specials are priced at just $6 and include delicious cocktails such as a Caipirinha and a Brazilian Mojito. In addition to the fine drink specials and tasty, authentic Brazilian food on the menu, patrons can enjoy live music entertainment without a cover charge.
"This is the new drinking scene in the Peninsula," said Ilana Teles of Espetus Brazilian Steak House. "Come and enjoy good food, wonderful drinks and live music."
This San Mateo fine dining restaurant is one of the only places to experience the authentic flavors of Brazil. Espetus Churrascaria Brazilian Steak House is also the first restaurant in the Bay Area to offer a Rodizio-style restaurant, which means the restaurant offers continuous service. Their Brazilian Gaucho Chefs slowly roasts the highest quality cuts of beef, lamb, chicken, pork and seafood over an open flame and serve them right at customer's table-side.
Their fixed price menu is offered on an all-you-can-eat system, including a sumptuous salad bar and a variety of side dishes.
For more information, contact them at (650) 342-8700. Visit them at 710 South 'B" Street San Mateo CA 94401 or view them on the web at http://www.espetus.com. Customers may also find Espetus Churrascaria on Facebook.
About Espetus Brazilian Steak House
Espetus Brazilian Steak House features private dining and locations in San Francisco and downtown San Mateo. They feature quality cuts of meat grilled over an open flame, and then served to guests directly at their tables. They also feature a salad and hot plate bar to provide the full Brazilian dining experience.
# # #