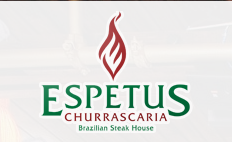 "I have eaten at several Brazilian steakhouses, but Espetus is definitely one of the best. Comfortable casual dining room, with a nice amount of space between the tables
San Mateo, CA (PRWEB) December 22, 2011
For holiday parties and for special party packages into 2012, San Mateo's downtown restaurant, Espetus Brazilian Steak House is the go-to place. In fact, many major and world famous Fortune 500 companies that are headquartered in Silicon Valley have turned to Espetus for their corporate functions.
For individuals looking for last minute gift ideas, or companies looking to provide a holiday bonus to their employees, Espetus Churrascaria Brazillian Steak House, a San Mateo fine dining restaurant is offering a free $10 gift card for each $100 gift card purchased. This offer is good until the end of business on Saturday, Dec. 31, 2011 and can only be purchased online at http://www.espetus.com/gift-card.
"I have eaten at several Brazilian steakhouses, but Espetus is definitely one of the best. Comfortable casual dining room, with a nice amount of space between the tables. Espetus features a nice buffet of sides and salads. Servers will immediately start visiting your table, bearing skewers of grilled meat which is carved off onto your plate. The range of selections is impressive and nearly all of them are tender and delicious. Select what you like, pass on what you don't and slip into a glorious meat induced food coma," said Jeffrey R. of Los Angeles.
For reservations, call Espetus Churrascaria Brazilian Steak House at 650-342-8700 or visit http://www.espetus.com.
About Espetus Churrascaria Brazilian Steak House
Enjoy a unique fine dining experience at Espetus Brazilian Steak House, a Brazilian Churrascaria offering private dining in San Francisco and downtown San Mateo. We feature quality cuts of meat grilled over an open flame, and then served tableside to guests. We also feature a salad and hot plate bar to provide the full Brazilian dining experience. Whether you host your event at our downtown restaurant in San Mateo, or at our original San Francisco location, Espetus will make your event a unique and exciting adventure.
###