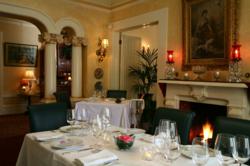 It shows you where your restaurant rates in terms of the rest of the world.
Healdsburg, CA (PRWEB) November 03, 2011
The wait is finally over for Bay Area foodies—the 2012 Michelin Red Guide San Francisco, one of the most esteemed restaurant guides in the world, has just been released. The beloved Sonoma fine dining restaurant Madrona Manor, nestled in an elegant Victorian inn near Healdsburg, was once again honored with one Michelin star. Michelin has bestowed the honor on Madrona Manor four times in a row.
Originating in France, the Michelin star system is considered by many chefs to be one of the world's most prestigious honors. Only three cities in the United States are even considered by Michelin (New York, Chicago, and San Francisco), and very few restaurants receive stars—just 39 Bay Area restaurants were given one star in the 2012 guide.
"It shows you where your restaurant rates in terms of the rest of the world. You grow up hearing stories about Michelin starred restaurants in Europe, and when you're at them, you always wonder where your restaurant ranks," Chef Mallgren told the Press Democrat.
The 2012 Michelin Red Guide praises Madrona Manor's "majestic" appearance. "Dating back to the 1880s, the historic manse is surrounded by manicured grounds and vegetable gardens that provide a portion of the kitchen's produce," notes the Guide. "Devotees, staff, and chef alike seem to share a reverence for this dignified grand dame: all are polished, sophisticated, and dressed to kill."
Chef Mallgren is known in culinary circles for his unconventional ingredient pairings. The Michelin Red Guide gives examples of some of his inspired creations. "Romantic and celebratory couples dine on contemporary Californian recipes that may unveil lobster with celery root purée and white chocolate sauce; a tasting of foie gras with watercress and brioche; and grilled lamb loin with sautéed mushrooms, parsley roots, and Meyer lemon gelée."
The notable wine list is also singled out; the Guide suggests guests "pair with rare and exceptional vintages chosen by the sommelier."
The 4th straight Michelin star rating adds to the numerous honors bestowed upon the celebrated wine country restaurant Madrona Manor in recent years. Others include a 27 Zagat rating and "Zagat Top Spot" award, a Top 100 Bay Area Restaurants honor from the San Francisco Chronicle in 2009, and glowing reviews from Wine Spectator and the Press Democrat, and more.
For more information about Madrona Manor, call them at (866) 319-8212 or visit them on the web at http://www.madronamanor.com.
About Madrona Manor
Nestled in the hills above the Dry Creek Valley of Sonoma County, Madrona Manor is an exceptionally lovely Victorian estate surrounded by eight acres of wooded and landscaped grounds. The Mansion, built in 1881, has been a destination for discerning guests seeking a stay in the gracious wine country of northern California since 1981. Whether visitors come to get away from it all, or to reconnect with friends and loved ones, Madrona Manor is one of the finest locations for an out-of-town weekend, party, executive retreat, or wedding in Napa or Sonoma Counties.
Visitors are invited to enjoy a romantic meal in the acclaimed Sonoma restaurant, engage in quiet conversation with drinks on the veranda, or relax by a cozy fire in the winter or the pool in the summer. At the end of the day, a peaceful night's stay awaits guests staying in any of the elegant rooms.
###