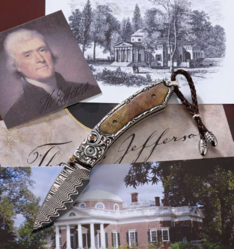 "We are honored to be able to celebrate Thomas Jefferson and preserve such an important historic landmark in a unique and personal way."
–Matt Conable, Founder and President of William Henry
Washington, D.C. (PRWEB) May 15, 2013
These handsome limited edition fine knives feature an inlay of natural wood from a Tulip Poplar tree widely believed to have been planted by Thomas Jefferson on the southwest corner of his beloved Virginia home, Monticello. In his Weather Memorandum Book on April 16, 1807 Jefferson noted planting, "1. Laurodendron in margin of SW [shrub circle] from the nursery." We assume this is the extant "southwest" tulip poplar: Jefferson's "margin of SW shrub circle" corresponds to the tree's current location. The tree was one of the grandest specimens of its kind. The wood was furnished by Historical Woods of America, which had the opportunity to reclaim a portion of the massive tree when it was removed in 2008 for safety concerns.
The details on this fine gift recall custom designs found at Monticello – like the mill work trim inside the house and on the capitals of columns at the entryways. The elegant frame is intricately hand-carved in sterling silver. Two precision-cut citrine gemstones are set into 18K gold bezels on the button lock and the knife guard. The blade is forged in Damascus steel with a 'Wave' pattern and coated in tungsten carbide for superior wear resistance. Fittings and fasteners are custom fabricated from stainless steel and titanium.
The Thomas Jefferson Tulip Poplar knives are individually numbered in a limited edition of 50 pieces. William Henry's first exclusive limited edition George Washington knife, made from wood from one of thirteen horse chestnut trees planted by George Washington around 1795 along the historical Fauquier Street in downtown Fredericksburg, Virginia to provide shade for his mother and sister as they walked between each other's houses, has sold out – order the Jefferson knife soon and carry a part of history! The Jefferson knife is available for purchase exclusively at Fahrney's. For more information on the limited edition pocketknife or other fine gifts please visit Fahrney's Pens online.
Store Location:
1317 F Street, NW (just 2 blocks from the White House)
Washington, DC
202-628-9525
###
Known as the "Write Place", Fahrney's Pens is the Nation's premier source for fine writing instruments and accessories including pens, pencils, refills, stationery, watches, leather gifts and more. Offering pen expertise since 1929, including custom engraving and pen repairs from the "Pen Doctor", Fahrney's is a family-owned business with a commitment to its customers that has been rewarded with unparalleled loyalty. Visit FahrneysPens.com.
William Henry is an American luxury brand devoted to the vision of designing and creating superlative functional jewelry. The seamless integration of classic natural materials, precious metals & gemstones, and state-of-the-art alloys is a hallmark of William Henry's work. The brand creates limited editions only, and no two pieces are ever replicas. William Henry's collections are available on its website and through a select network of authorized retailers in the US and abroad. For more information on William Henry visit http://www.whstudio.com.