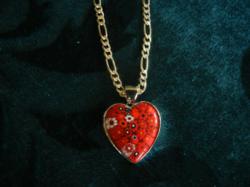 We at Gioia Company love this art and the story of the art dating back to ancient times
Los Gatos, CA (PRWEB) February 08, 2012
Italians love romance every day, not just on Valentine's Day or at weddings. The passion expressed by the Italians is captured in the fine artworks offered by Gioia Italian Art in Los Gatos. This Valentine's Day, present loved ones with unique Italian gifts available at Gioia Italian Art, such as Millefiori glass jewelry or inlaid wood.
Millefiori glass dates back to the Roman times. This ancient technique was revitalized in the 16th century and again in the late 1800s. The artists of Murano, one of the Venetian islands, worked to perfect the art of Millefiori. Millefiori means "a thousand flowers" and looks just like a field of bright colored flowers. Long tubes of glass are blown in various shapes and cuts to resemble flowers, and then returned to liquid inside a particularly shaped mold that creates vases, jewelry, glass bowls and more.
"We at Gioia Company love this art and the story of the art dating back to ancient times. The art will never be out of style if it has been around for more than a thousand years. The pieces we carry are the finest found by designer Alan K.," Kathy Winkelman of Gioia Company said.
For more information or to order a Millefiori glass necklace by Alan K., visit https://gioiacompany.com/webshop/product/millefiore-red-heart-italian-sterling/201/243.
Inlaid wood is also an art from ancient times. The center for inlaid wood art production is in Sorrento, Italy. Thin layers of various woods are cut by a very thin saw according to a pattern. Then the woods are mixed into a puzzle-type scene. The colors are derived in a natural manner and are not painted. In particular, Gioia features an inlaid wood, red music box with a heart design.
For more information or to order the featured inlaid wood music box, visit https://gioiacompany.com/webshop/product/sorrento-inlaid-wood-love-music-box/80/238.
Join Gioia Company for Festa Gioia and listen to the song in the music box, "Torna a Surriento," or "Return to Sorrento."
For reservations or for more information about any of Gioia Company's products or services, call 408-640-6628 or view the company on the web at http://www.gioiacompany.com. Gioia Company is always open by appointment.
About Gioia Company
Gioia Company is a Los Gatos-based specialty online company that provides fine Italian art and unique Italian gifts to destinations near and far. Founded in 2006, the company derives from a strong tradition of Old World Hospitality, time-honored craftsmanship and a passion for the Italian arts. Collecting only the most unique and astounding pieces, Gioia extends an array of artistic selections, such as Venetian masks, jewelry, sculptures, inlaid wood, Italian linens, laces, statuary, stones, kitchenware and more.
###