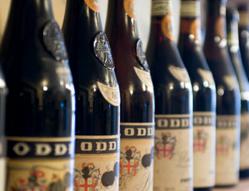 FARINA's birthday celebration provides guests an opportunity to try wines of distinction at a very good price.
San Francisco, CA (Vocus/PRWEB) June 03, 2011
Oddero Winery of Santa Maria, Italy will join in celebrating FARINA's fourth birthday Northern Italian-style. The winery's sixth-generation owner, Mariacristina Oddero, will present a special selection of wines, including bottles not currently available to the public, to toast with FARINA guests during this special celebration dinner. The event is planned for Wednesday, June 8, 2011 from 5:30 to 10:00 pm at FARINA.
To create perfect matches of wine and northern Italian delicacies, Executive Chef Laboa has created a special seasonal menu to which sommelier Alex Finberg has lovingly paired a selection of Oddero's premium vintages. Similar to Laboa's humble roots in Italian culinary tradition, Oddero creates wines that are authentic and timeless.
"Oddero wines are not trying to be a bigger, better, sexier version of Barolo—they are simply Barolo," said Alex Finberg, FARINA sommelier.
Barolo is a red Denominazione di Origine Controllata e Garantita (DOCG) wine produced in the northern Italian region of Piedmont. It is made from the Nebbiolo grape and is often described as one of Italy's greatest wines.
Guests of the birthday celebration will meet Mariacristina Oddero, the winery's owner and great granddaughter of Oddero's founder. The event also offers wine enthusiasts an opportunity to sample special Italian wines, which will be available by the bottle or glass at prices lower than anywhere else in the United States. The restaurant and winery will also pour complimentary tastings for guests.
"FARINA's birthday celebration provides guests an opportunity to try wines of distinction at a very good price," said Finberg.
The thoughtfully designed birthday menu includes many delectable dishes and wine parings, including:

Veal breast served with homemade tonnee sauce and summer black truffles - paired with Oddero Barbera
Hand-crafted sausage taglierini pasta served with duck egg yolk and summer black truffles - paired with Oddero Barolo
Pan-seared rack of venison, rubbed with fine herbs and served with roasted potatoes and Barolo sauce - paired with Oddero Barolo Rocche di Castiglion
Braised free-range pheasant served with olive sauce and fresh artisan bread - paired with Oddero Barolo Barbaresco "Gallina"
For reservations or more information, please call (415) 240-4824 or visit FARINA online at http://www.farina-foods.com.
About FARINA
FARINA is a San Francisco Italian restaurant that specializes in traditional Northern Italian, Ligurian cuisine. Grounded in tradition, FARINA is the antithesis of faddish here-today-gone-tomorrow hip food. From the chic yet functional design of the San Francisco Mission District restaurant to the homegrown recipes Chef Laboa learned at his grandmother's side to the infinite well of ideas that spring from its founders—FARINA is redefining Italian dining in San Francisco.
# # #