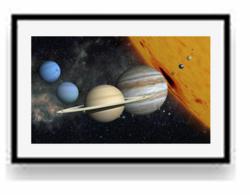 We are able to provide a service beyond creative professionals, and expand our reach into a rapidly growing market.
Orlando, FL (PRWEB) February 08, 2012
Stocktrek Images, a professional stock photography agency specializing in military, space and specialty photography, today announced a strategic agreement with Fine Art America, one of the fastest-growing online communities built specifically for creating, buying, and selling custom art.
With the integration of Fine Art America, Stocktrek's customers now have the ability to purchase posters and print reproductions from StocktrekImages.com. Alternatively, visitors may navigate directly to Stocktrek's Fine Art Store here: http://www.StocktrekImagesOnDemand.com.
Stocktrek's Art Store allows customers to order a wide array of fine art prints, custom matted and framed, with Fine Art America's superior-quality materials, and exceptional customer service.
"We are able to expand our reach into a rapidly growing market by introducing this new feature," said Ryan Rossotto, President of Stocktrek Images. "We are now able to provide a service beyond creative professionals, as customers of all ages and demographics are welcome to browse through our site and purchase prints to decorate the walls in their homes and offices in style."
In addition to its unique collection of imagery, another advantage to this new facet is the ease of use. Stocktrek users can select a desired photo, click the "buy a print" tab and select the size and options to their liking. Choices may be tested and previewed by customers before buying with a click of the mouse, so buyers end up with a finished product they love.
Stocktrek offers unparalleled imagery not readily available for print reproduction anywhere else. Whether it is a breathtaking photo of the planet Earth, a captivating aerial photograph of military aircraft, or one of many other stunning images, they all add value to any project. Some of the new selections that are offered include canvas art, framed posters, basic prints, and greeting cards.
How it Works
Fine Art America fulfills each order on behalf of Stocktrek Images—taking care of the printing, framing, matting, packaging, shipping, and collecting payments from the buyers. Each print is manufactured at Fine Art America's production facility in North Carolina and delivered "ready-to-hang" with a 30-day, money-back guarantee.
About Stocktrek Images
Stocktrek Images is a stock photography agency specializing in imagery of military forces, space exploration, dinosaurs, volcanic activity and underwater photography. In addition to licensing rights managed and royalty free stock photos and illustration, Stocktrek also provides customers with the capability to purchase any image as a print or poster. It offers many different types of wall décor, from basic prints to canvas art and custom frames. Exclusive deals, news and updates regarding Stocktrek may also be found at:
Stocktrek on Twitter: @StocktrekImages
Stocktrek on Facebook: http://www.facebook.com/stocktrek
About Fine Art America
Fine Art America was created in 2007 by a single programmer/entrepreneur, Sean Broihier, as a way to simplify the business of buying and selling artwork on a global scale. The privately held company has emerged as the premier destination for prints from living artists, featuring more than two million images from 80,000+ independent artists, art galleries and image libraries.
###