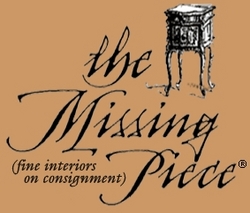 The experience of finding a bargain is just as important as the find itself. Digging in a cramped, dark storefront just doesn't make you feel as good about yourself or your purchase decision
Tampa, FL (Vocus) July 17, 2009
The Missing Piece, an award-winning furniture consignment store in Tampa, Florida, just accepted its 100,000th piece of furniture.
The store opened in late 2002 and from the beginning it was a different kind of consignment store. Founders Barbara Batsavage and Candace Blackburn made two conscious decisions early on: they wanted a very large space so shoppers could have lots of choices, and they wanted the store to look like a fine furniture retail store.
The result is a furniture mecca of one hundred vignettes and a full time designer to ensure each piece is shown in its best light. "The experience of finding a bargain is just as important as the find itself. Digging in a cramped, dark storefront just doesn't make you feel as good about yourself or your purchase decision," says Batsavage.
On any given weekday, a truckload or more is picked up and delivered to the furniture consignment store. The new arrivals are posted daily on the company website (http://www.themissingpiecetampa.com) and the buying frenzy begins. "Our average selling time is 16 days," says Blackburn. "It's like a giant estate sale. The store is full in the morning and the designer and his team of two full time movers spend all day replenishing the sold pieces that go out the door."
Before consigning, prospective sellers submit pictures of their furniture and accessories via email. The Missing Piece responds with a range of value or a polite decline if the pieces are dated or worn. The consignor receives half of the sales price. Furniture is tagged with an initial price and a schedule of fifteen percent reductions every thirty days for a total consigment period of ninty days. The Missing Piece sells 99% of the furniture it accepts.
The end result of this upscale spin on used furniture is thousands of sellers who chose The Missing Piece to turn their gently-used pieces into cash and thousands of buyers who snap up the smart buys. Sellers (6,549 to date) range from individuals to designers, home builders with model home furniture to design shop owners going out of business and retail furniture stores needing to rid themselves of last year's floor samples.
Batsavage and Blackburn see a bright future for this clever spin on furniture when so many of the traditional furniture stores are faltering..
So bright in fact, they've just begun franchising. With their first franchise open in Clearwater, Florida, they are poised to bring their stylish, full service fine interiors on consignment concept to cities throughout the Southeast.
"In today's economy, the consumer wants to make wise, thoughtful purchases," says Batsavage. "By offering gently used, high-end furnishings in a sophisticated environment at a fraction of the new furniture price, almost everyone can afford to live beautifully and guilt-free."
###