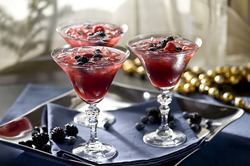 KNOXVILLE, Tenn. (PRWEB) December 1, 2008 -
Inspire guests and liven up holiday celebrations with FineLiving.com's fantastic lineup of festive holiday cocktails. Stephen Phillips, NYC bartender and host of Fine Living Network's Great Cocktails, recommends these terrific toddies to spice up your Yuletide. (http://fineliving.com/holidaycocktails)
Frosty the Caramel Apple Pie - This beautiful drink tastes like Mom's apple pie in a chilled glass!
Positively Warm Apple Pie - An Italian liqueur brings a continental touch to a homey favorite of cider and cinnamon.
Santa's Pumpkin Pie Martini - This unique treat incorporates all the flavors of the season including vanilla, pumpkin, butterscotch and graham crackers - sure to get you on the 'Nice List' with Santa this year!
Mrs. McMullen's Appleberry Pie - While visiting Ireland Stephen often complemented Mrs. McMullen's moist brandy puddings with this specially made cocktail that includes berries, grapes and apple flavors.
Uncle Billy's Holiday Treat - Have plenty of refills of this tasty mixture of Advocaat liqueur (a creamy blend of egg yolks, aromatic spirits, brandy and vanilla) with Kahlua, hazelnut liqueur and honey.
Clarence's Cranberry Toddy - Join the Baileys in saluting everyone's favorite angel this holiday season with this classic blend of vodka and cranberry.
It's a Wonderful Sangria - Stephen recommends this drink for New Year's Eve party guests. Keep them smiling with this spicy, flavor-packed wine drink with a champagne twist.
Zuzu's Peach Sparkler - Usher in the New Year and greet your guests with this delicate signature cocktail that infuses peach schnapps with fresh lemon, orange, peach and mint.
Liam's Midnight Toast - When the clock strikes midnight, impress friends and family with this colorful and classy combination of champagne, cognac and Campari!
Rosario's Rumpope - This Ecuadorian version of eggnog will drive guests out of their noggins with its creamy richness. Rumpope, pronounced "rom-poe-pay," is a popular and delicious treat, with or without spirits.
Visitors to FineLiving.com can also view an expansive collection of the most popular classic drink recipes organized by alcohol and view Stephen's entire library of cocktail videos.
For these recipes and other fantastic holiday ideas visit http://www.FineLiving.com.
Scripps Networks Digital
Scripps Networks Digital is a diversified, multi-platform programmer that delights millions daily with award-winning content in the home, food and living categories. Scripps Networks Digital's Web sites -- HGTV.com, FoodNetwork.com, DIYnetwork.com, FineLiving.com, GACTV.com, Recipezaar.com, HGTVPro.com, FrontDoor.com, and the newest Ecologue.com -- are powered by engaging content, interactive tools and social spaces that take fans of Scripps Networks cable brands further into the story and offer online users information and inspiration to fuel their passions. Scripps Networks Digital also distributes content to mobile and online partners, providing lifestyle solutions virtually anywhere, anytime.
###