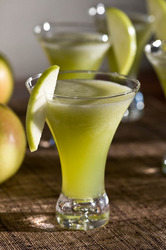 Knoxville, TN (PRWEB) January 28, 2009
Proof that you don't have to forego flavor when cutting calories, FineLiving.com offers up recipes for "relatively light" cocktails. Stephen Phillips, NYC bartender and host of Fine Living Network's Great Cocktails, recommends these terrific toddies for enjoying some spirits without all the guilt. (http://fineliving.com/lightcocktails)
Apple Glow - Feel your skin come back to life with this vitamin and mineral rich drink.
What's Up Doc? - This tasty carrot juice, ginger and vodka concoction is just what the doctor ordered.
Wed Wabbit - You'll be saying th-th-th-that can't be all folks with this veggie-infused, lemon-tart vodka recipe.
Cool CuBama - You don't have to be presidential to enjoy this gin, apple cider and cucumber cocktail.
Gilligan's Delight - The skipper, professor and Mr. Howell would love this ginger-infused, apple-cider-and-bourbon libation.
Tom's Mellow Melon Margarita - A guy named Tom discovered this energy-rich watermelon and orange juice tequila mixture.
A Very Berry Brazilian - High in vitamin C, iron and flavor, this South American drink is sure to boost your energy level.
Kiwi Kutee - You'll think a kiwi is more than just cute when you reap the vitamin, potassium and beta-carotene benefits of this rum refresher.
Can-Dewtini - Yes you can "do" one of these mouth watering honeydew and cantaloupe flavored cocktails.
A "Fired Up and Ready to Go" - You'll be ready to take on the world with this pear vodka, cantaloupe and ginger drink.
Visitors to FineLiving.com can also view an expansive collection of the most popular classic drink recipes organized by alcohol and view Stephen's entire library of cocktail videos.
For these recipes and other fantastic ideas for the new year, visit http://www.FineLiving.com.
Scripps Networks Digital
Scripps Networks Digital is a diversified, multi-platform programmer that delights millions daily with award-winning content in the home, food and living categories. Scripps Networks Digital's Web sites -- HGTV.com, FoodNetwork.com, DIYnetwork.com, FineLiving.com, GACTV.com, Recipezaar.com, HGTVPro.com, FrontDoor.com, and the newest Ecologue.com -- are powered by engaging content, interactive tools and social spaces that take fans of Scripps Networks cable brands further into the story and offer online users information and inspiration to fuel their passions. Scripps Networks Digital also distributes content to mobile and online partners, providing lifestyle solutions virtually anywhere, anytime.
###