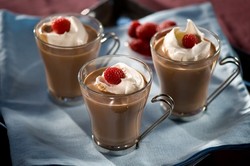 Knoxville, Tenn. (PRWEB) October 16, 2008
Rake some fallen leaves, gather up some firewood, and don your favorite sweater - fall is here! Embrace the new season with some cool-weather cocktails, compliments of FineLiving.com. Stephen Phillips, host of Fine Living Network's Great Cocktails, recommends these terrific toddies to spice up your autumn. (http://fineliving.com/cocktails)
1. Dolan's Delicious Hot Buttered Rum - This smooth taste goes perfectly with a gathering by the fireplace. Serve it up and see who can concoct the tallest tale.
2. Sharon's Seriously Toasty Texas Hot Chocolate - This Texas staple is almost a dessert in itself. Try the rich and creamy drink with butter cookies or ladyfingers.
3. Hot "Rasapple-Rum" Cider - Jazz up plain apple cider with the flavors of raspberry and rum. It's warm and cozy!
4. My Mama's Marvelous Mulled Wine - A centuries-old delight, this elixir combines red wine, port, brandy, and spices - just like mama used to make.
5. Arturo's Positano Winter Sunset - Direct from Italy, this sipper may inspire dreams of a warm Mediterranean getaway.
6. Chai Yai Yai - Taste a sweet exclamation of almond, orange and lemon in this velvety and aromatic warmer.
7. Hot Apple Ginger Toddy - This honey-ginger twist on a classic hot drink begs the question, "What's toddy mean, anyway?"
8. Hoppin' Hot Scotch - The scotch in this drink comes from the creamy flavor of butterscotch.
9. Cocoa Raspberry Heaven - Get to cloud nine with this heady brew of berries and chocolate.
10. Stevie's Butterscotch Bedtime Warmer - It's the perfect nightcap before you put on your night cap!
Check out FineLiving.com for more great cocktail ideas, including 10 Happy Halloween Cocktails (http://www.fineliving.com/fine/entertaining/article/0,2498,FINE_22197_5673393,00.html), which feature hauntingly delicious recipes from ghostly restaurants and scary bartenders across the country.
Scripps Networks Digital
Scripps Networks Digital is a diversified, multi-platform programmer that delights millions daily with award-winning content in the home, food and living categories. SN Digital's Web sites -- HGTV.com, FoodNetwork.com, DIYnetwork.com, FineLiving.com, GACTV.com, Recipezaar.com, HGTVPro.com, FrontDoor.com, and the newest Ecologue.com -- are powered by engaging content, interactive tools and social spaces that take fans of Scripps Networks cable brands further into the story and offer online users information and inspiration to fuel their passions. SN Digital also distributes content to mobile and online partners, providing lifestyle solutions virtually anywhere, anytime.
###