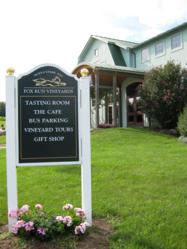 I have always tried to keep my prices low to provide quality and value to the wine drinker.
Corning, NY (PRWEB) May 04, 2011
Two Finger Lakes wineries have been named top value brands for 2011 by Wine & Spirits magazine. Fox Run Vineyards and Lamoreaux Landing Wine Cellars were listed among the 55 international brands including 17 from the United States.
Each year, Wine & Spirits magazine tastes thousands of wines blind. According to the magazine, "Out of the 3,000-some bottles we tasted blind over the past 12 months, these brands caught our attention, not just for one stellar value, but several." The full list can be found in the June 2011 issue of Wine & Spirits magazine.
"In the exceedingly competitive United States market we have two remarkable Finger Lakes wineries achieving recognition along with 15 others - all big players from California, Oregon and Washington for consistently producing wines that provide both quality and value," said Bob Madill, Chair, Finger Lakes Wine Alliance. "The math is compelling: FLX = Q+V!"
"I have always tried to keep my prices low to provide quality and value to the wine drinker. I am thrilled we have been recognized as one of the top value brands in the US," commented Fox Run Vineyards' President, Scott Osborn. Behind the winery is a vast expanse of vinifera vineyards producing award-winning Chardonnay, Riesling, Pinot Noir and Cabernet Franc. Plantings of Lemberger, Merlot, Cabernet Franc and Gewurztraminer position Fox Run's future on the cutting edge of the Finger Lakes' wine industry.
Across Seneca Lake is Lamoreaux Landing Wine Cellars. "We are honored to be included in this list of highly respected producers and want to sincerely thank Wine & Spirits Magazine for recognizing the quality for price-point that Lamoreaux Landing Wine Cellars presents," added Josh Wigg, co-owner of Lamoreaux Landing. Owner Mark Wagner grew up in the Seneca Lake grape business and Lamoreaux Landing Wine Cellars was the logical culmination of generations of grape-growing knowledge and decades of Mark's viticultural experience. Focusing on vinifera varieties like Riesling, Chardonnay, and Cabernet Franc, Lamoreaux Landing continues to be recognized for outstanding quality.
In addition to the top value brands, the June 2011 issue of Wine & Spirits also lists the top 100 values of the year. This list included the Heron Hill Winery 2008 Semi-Sweet Riesling, the Lamoreaux Landing 2009 Dry Riesling and 2009 Semi-Dry Riesling, and the Fox Run 2008 Riesling. Also mentioned in the same issue were some new releases from the Finger Lakes. Chateau Frank's 2006 Blanc de Blanc received a 90, the Tierce 2008 Dry Riesling received a 92, the Anthony Road 2009 Semi-Dry Riesling received a 91, the Fox Run 2009 Riesling received a 90, and the Dr. Konstantin Frank 2008 Rkatsiteli received an 89.
May is Riesling Month in Finger Lakes Wine Country. Fox Run Vineyards is currently offering free shipping on 12 or more bottles of Riesling. Get an exclusive taste of Lamoreaux Landing's five 2010 Rieslings at their case club-exclusive event on May 15. Not a member of the case club? Simply purchase a case of wine.
Finger Lakes Wine Country is the most affordable and beautiful wine country destination in North America with four wine trails; over 100 wineries and over 400 unique things to do including shopping and dining experiences, world-class museums, and a local culture that is both warm and welcoming. For further information on this year-round destination visit http://www.FingerLakesWineCountry.com, http://www.Facebook.com/FingerLakesWineCountry, http://www.Twitter.com/FLWineCountry, or call 800.813.2958. Download the free Finger Lakes Wine Country mobile travel app at http://www.FLWC.mobi.
###