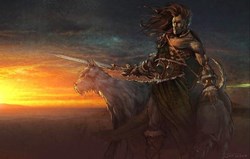 Finn McCool deserves to be known to the world as the hero, savior of Ireland that he was, and not simply as a name attached to a venue
Dublin, Ireland (PRWEB) December 16, 2013
Chris Brosnan, one of the United Kingdom's top writer, producers, recently announced his decision to create the first ever graphic novel series of the legendary Irish hero, Finn McCool.
Finn McCool is known throughout Ireland as one of its greatest Celtic Heroes. Finn was the legendary protector of ancient Ireland and chief to The Fianna, the elite bodyguard to the High Kings in pre-Christian Erin. Finn and the Fianna's heroic deeds and adventures are well known within the Irish community, and today many pubs, restaurants and organizations around the world, celebrate Finn McCool's legendary name, by branding themselves after him.
"Finn McCool deserves to be known to the world as the hero, savior of Ireland that he was, and not simply as a name attached to a venue," said Brosnan.
Brosnan's inspiration to create the graphic novel comes from the fact that the ancient stories of Ireland have been slowly fading away, something that Brosnan is determined to change. "Irish heritage, its stories and culture deserve a place on a global platform. So much magic is held within myths that to watch them slip away is something bordering tragic. Before the Finn McCool project, no graphic novel existed in honor of the Irish heroes, and a new breath of storytelling talent needs to emerge."
Taking ancient stories into a modern world is a challenging, yet a dynamic enterprise. Only by capturing the authentic, original and natural world of the pristine Celtic past can such an undertaking become a viable reality.
"We want our youngsters, and adults alike, to read the novels and learn more about Ireland, her heritage, rites of passage and initiations into adulthood," said Brosnan. "It's something sadly lacking in today's world, where many of our youth are abandoned to struggle into adulthood blindly without the mentoring guidance necessary to navigate such a transition. The stories of Finn teach of those important lessons; we also want to showcase the real heroes of our Irish past, rather than the regurgitated Superman and Batman of movie land. Finn McCool is an original story and project; we want you to become a part of this fantastic adventure with us."
John Walters, known for his Stunning VFX on the latest Spartacus series for the US STARZ channel, and Courtney Davis, the world's leading Celtic illustrator are on board, as a team they will bring the Irish hero legend's to life.
European Fitness Queen Supreme, Cindy Landolt, has claimed top perk on the Indiegogo campaign as Saba, Priestess, Warrioress and true love of Finn McCool. Cindy, a native of Switzerland, couldn't resist claiming the warrior women's place in history after being told about the Finn McCool graphic novel project by a close friend.
"I've always loved the power and beauty of the Goddess in all mythologies, right up to Wonder Woman," said Cindy. "I was told that I looked exactly like the female lead Character, Saba. Once I'd seen the likeness, I knew that I had to be a part of making history happen." Cindy's image will now be created into the novel series, bringing with her a very real and stunning vision of the divine feminine for Finn Fan's over the world. Her website is located at http://www.cindytraining.com.
Brosnan and his crew are now raising awareness to support the Finn McCool project through an Indiegogo, crowd-funding campaign. Ultimately, the writer wants to not only produce the hardcover graphic novel series, but also a feature film of the same subject. The first screenplay is complete with the second well underway.
Individuals can support this completely unique Irish project by visiting the Finn McCool information page: http://www.indiegogo.com/projects/finn-mccool-celtic-ireland-s-greatest-hero--2/x/3055687 and by passing on the word of this magical story. Additional information is also available at http://finn-mccool.com.
Once the project is completed, a percentage of profits will be donated to the Irish Youth Foundation Charity, based in Dublin, Ireland.
About Chris Brosnan:
Chris Brosnan was born in the UK, where he lived for more the 40 years, he is the writer, producer of the Finn McCool project. His other writing credits include "Fugitive Fathers", "Wimps To Warriors", "The Shadow Catchers", "Gospel According to Elvis", "The Redemption of Man" and feature film screenplay "Finn McCool - The Forging of the Fianna." Brosnan brings a wealth of experience in the industry and an extensive book of contacts to the Finn McCool project. For more information, please visit http://www.indiegogo.com/projects/finn-mccool-celtic-ireland-s-greatest-hero--2