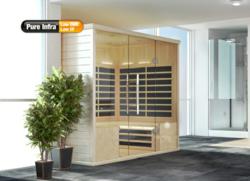 Blackwell's article, included a quote from Dr. Bray who said, "I'm very concerned, because the stories are very, very compelling…These are not crazy people. There is a huge, huge problem."
Cokato, MN (PRWEB) August 24, 2012
Responding to the call to reduce exposure to both EMR and EF, Finnleo is pleased to announce the Finnleo Pure Infra Saunas lead the industry in reducing bather exposure to both EMR and EF. While the effects of Electromagnetic Radiation (EMR) and Electric Fields (EF) are not fully understood, more doctors are recommending reducing exposure to these forms of radiation wherever possible.
As Tom Blackwell of the National Post reported on August 11, 2012, there remains a large portion of the medical community who, based on scientific studies, are hesitant to attribute specific medical conditions to exposure to EMR and EF, but there is also significant anecdotal evidence to suggest continuous exposure to this radiation is affecting the health of many. Blackwell's article, included a quote from Dr. Bray who said, "I'm very concerned, because the stories are very, very compelling…These are not crazy people. There is a huge, huge problem."
As a leader in the sauna and steam industry, Finnleo recognized its responsibility to lead the industry in researching and designing all of its infrared rooms to have EMR and EF levels lower than the Swedish Standards, which are recognized as the most stringent in the world for measuring safe levels of EMR and EF. What makes this technological advancement truly remarkable is while achieving the lowest possible EMR and EF levels, Finnleo reduced energy consumption while increasing the surface area of the infrared emitters to virtually eliminate all cold spots in the infrared rooms. To create an even more pleasant sauna bathing experience, Finnleo's S-series Pure Infra Saunas have a touch screen control with integrated sound system with crystal clear sound resonating from the walls, without the use of visible speakers. Completing the visual upgrade are full-glass fronts and a tri-modal lighting system with soft valance lighting, ceiling reading lights, and color light therapy.
To learn more about the Finnleo Pure Infra Saunas, visit http://www.finnleo.com , call 1-800-FINNLEO (346-6536), or visit a dealer.